Beige Magic
Review of Everyday Witchcraft exhibition at the Kogo Gallery in Tartu

27/08/2018
Let me start by admitting I have a soft spot for the esoteric and gothic. I don't see witchcraft as evil, but rather as magic, and not the kind from fairy tales but the kind of magic that lends deeper meaning to our everyday existence. Magic empowers people and gives mere mortals a form of agency in place of the standard 'human life' story arc. By finding the magic in the moment and discovering our power in any given situation, we use invisible forces to mould, shape, create the reality we want: magic as mindset.

Anna Mari Liivrand "Landscape for rose teardrops". Installation: copper pipes, rose essence, textile, 2018.

Anna Mari Liivrand "Friday with a red sphere", graphite, paper, 60 x 42 cm, 2018.
Anna Mari Liivrand's Landscape for Rose Teardrops (2018) is a rose-scented work comprised of grey velvet curtains and copper pipes. Such copper pipes are usually hidden within walls, but when exposed, they become sculptural; imbedded in grey velvet curtains, they become luxury. With clouds of rose-scented vapour spouting out of the pipes, the installation becomes mysterious, dreamy and surreal. The rose-scented room is heady and appealing in a decadent, hedonistic sense, but, as Umberto Eco pointed out, the rose was such a powerful symbol historically that it eventually lost all meaning. Magic was also once alive, much like God before Nietzsche issued his death warrant – but they, too, have lost their meaning and power in the post-modern world. Instead, arguably all we have left are habits and rituals – il faut des rites! But are our daily rituals hollow, mindless pantomimes? Or are we creating meaning, possibly magic?

Laura Põld "A necklace, a ladle, a touching vase and other recollections in clay". Installation: ceramics, earthenware, wood firing, found objects, 2016–2018.

Kristel Saan "The Witches do not play, the Witch will come in". Installation: video, human hair, coral, leather, wood, porcelain, candy, sugar, daddy, 2012–2018.
Curator Merilin Talumaa puts together the daily rituals of artists as a meditative source of creative power and symbolic production. Laura Põld's ceramic and earthenware pots tell the story of a nomadic artist's existence, seeing as she created the different vessels at different residencies all around the world. Põld's wall-mounted work A Necklace, a Ladle, a Touching Vase and Other Recollections in Clay (2016–2018) illustrates how these pieces act as tangible, touchable pieces of what would otherwise be fragmented, fading and ultimately forgotten memories. Kristel Saan has perhaps the most literally 'witchy' work in the show, The Witches Do Not Play, the Witch Will Come In (2018), with a few haunting relics, such as a ceramic finger (harkening back to her earlier ceramic jewellery works) emerging in a ghostly manner from a piece of driftwood. The video of Saan in a small, cauldron-like bathtub under a large tanning lamp once again points towards the rituals of everyday life.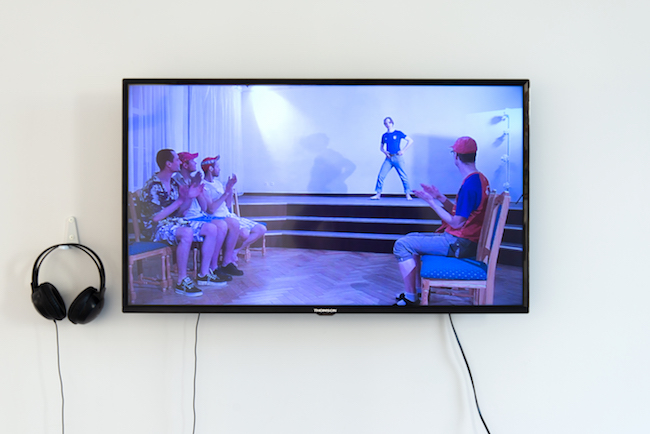 GolfClayderman "Invisible Field" summer-winter collection, video 10min 46sec, 2016.
Everyday and normal became a generational fashion statement with the rise of 'normcore' aesthetics and fashion designers like Demna Gvasalia with his 1990s Eastern Bloc-inspired brand-name fashion. GolfClayderman's Invisible Field video of their summer-winter collection echoes the current fashion catwalks but ups the pathos and absurdity with Richard Clayderman's ubiquitous elevator muzak and non-model-models working the catwalk in fiercely meek anti-fashion. There is ultimately something liberating about people who refuse to follow trends – GolfClayderman's videos and fashion line (there were t-shirts for sale) are dry wit, of course, but also function as group therapy for the average man's anti-fashion choices (you're in a safe place, buddy).

Jaakko Pallasvuo "Major Arcana Bulletin Boards". Installation: paper, gouache, ink, ceramics, pins, corkboard, wood, 2018.
Finnish artist Jaakko Pallasvuo is perhaps best known for his comedy-tragedy comics and sketches filled with millennial angst and a specific brand of post-internet existential dread and neurosis. His Major Arcana Bulletin Boards (2018) is the first work in this group exhibition to directly delve into the occult with references to the tarot. Forms of clairvoyance from runes or the I Ching to tasseography are as ancient as the human need to know the future or, perhaps more importantly, derive meaning and order from chaos and confusion. The Major Arcana cards of the tarot deck have been interpreted by many artists over the years, illustrating the metaphors and diametric readings, where death also means rebirth. Pallasvuo's parallel realities are presented on and around cork bulletin boards, which exemplify plans, focus and organisation, while the sketches on the boards ferry us back to existential questions of whether any of this actually exists or means anything.

Exhibition view "Everyday Witchcraft". Photo: Madis Kats

Collectively, the five works in the small white cube that is the Kogo Gallery do work together to tell a conceptually strong story, the magic of the everyday. There is, however, something that is only hinted at and cannot be touched – the difference between the word 'beast' and the beast itself. This species of everyday magic is safe, sweet and civilised. Which is, of course, less dangerous than staring into the abyss, as the abyss always stares back into you.
Everyday Witchcraft
Kogo Gallery 21.07. – 08.09.2018
Participating artists: Anna Mari Liivrand, GolfClayderman, Jaakko Pallasvuo, Kristel Saan, Laura Põld. Curated by Merilin Talumaa
kogogallery.ee