«Violence reached us imperceptibly»
Polish artist and enfant terrible of the local art scene Jakub Gliński on his HEAVY DISNEY exhibition
One of the key names on the new Polish art scene, Jakub Gliński started his career as a noise musician under the stage name JESUS IS A NOISE COMMANDER. Instead of releasing albums, he focused on live performances where a significant role was played by visual effects and the "Trash and Error" aesthetics he was developing. 2013 saw Gliński turn to painting, where initially, just like previously in music, what really mattered to him was gesture, the unfinished artefact: he frequently destroyed his works at art galleries once the project was over. The aesthetics of derelict public space filled with wrecked elements of urban infrastructure and awkward graffiti evolved into a language for expressing personal feelings, emotions and reflections in Gliński's paintings. This breakaway expression was coupled with elements of various techniques and approaches picked up by the artist during his time as a construction worker and a 3D-printing specialist. "The foundation of his work is based on the confrontation of apparently contrary strategies and aesthetics, emerging from the surrealistic automatism and abstract expressionism to classic minimalism, all filtered by the reality of growing up in post-soviet and late capitalistic realities," according to an annotation to one of his early projects.
Jakub Gliński, Anger transference, 2023, acrylic on canvas, airbrush, screen print, 6-panel painting, 345 x 260 cm. Courtesy the artist and Gunia Nowik Gallery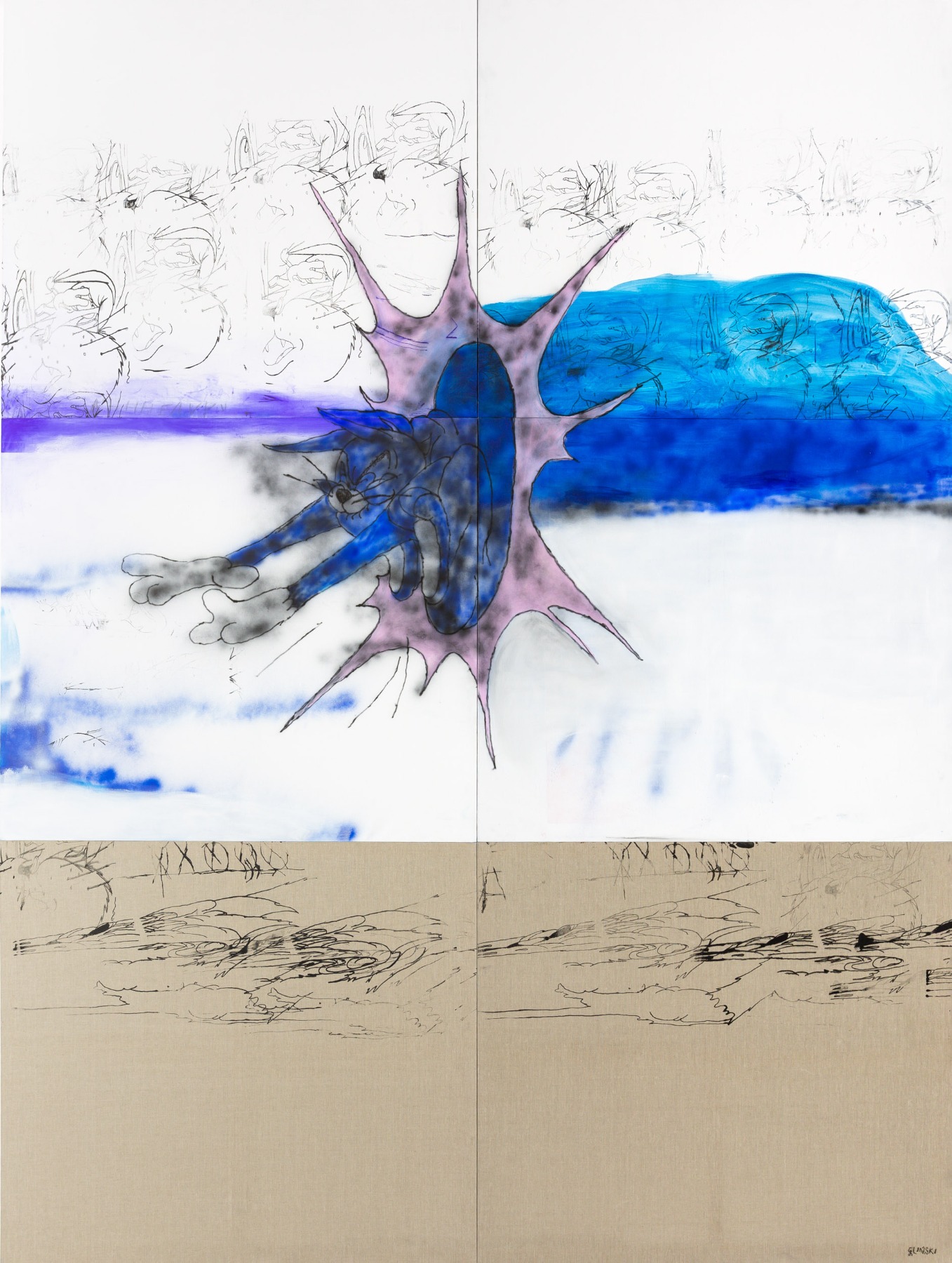 Arterritory wrote about Jakub in our review of the 2021 Warsaw Gallery Weekend, comparing him to Basquiat: "Like Jean-Michel, Jakub is largely inspired by street art, graffiti, and images of pop culture, from emoticons to tattoos, arranging his vast aerograph canvases like incredibly subtly fine-tuned streams of consciousness where every element seems completely random at first glance but is actually irreplaceable within the resulting structure of the painting. Jakub painted some of the works in situ, right there at the gallery ‒ wiping off and layering, taking off and adding until he finally felt happy with the result." His latest solo exhibition HEAVY DISNEY went on view at Gunia Nowik Gallery in Warsaw early this spring and is running through 22 April 2023.
It is a project directly tied with the current times, with a sense of uncontrollable surge of violence caused by the Russian aggression in Ukraine. Furthermore, Gliński also references some historical parallels, like the so-called Detachment 731, the Japanese military unit that practiced testing chemical weapons on prisoners of war and carried out systematic extermination of Chinese population with the help of biological weapons. "For Gliński, the story of Unit 731 is but a metaphor for the endless barrage of cruelty for which humanity has invented further pretexts. As Lech M. Nijakowski writes in his book Ludobójstwo. Historia i socjologia ludzkiej destrukcyjności [Genocide. The History and Sociology of Human Destructiveness] – 'the organised cruelty of homo sapiens usually takes the form of a political project'. The Crusades, the Massacre at Béziers, the Thirty Years' War, the slave trade – each of these occurrences was motivated by a grand political vision. Gliński, who has thus far explored his own experiences – personal stories, testing his relationship with the world – reveals something new to us. The escalation of the Russian war in Ukraine has influenced how all stories about war have transformed from past to present tense," says Aleksander Hudzik in his introductory note to the exhibition.
Jakub Gliński, HEAVY DISNEY, 2023, acrylic on canvas, digital print on cotton, airbrush, screen print, 4-panel painting, 350 x 500 cm. Courtesy the artist and Gunia Nowik Gallery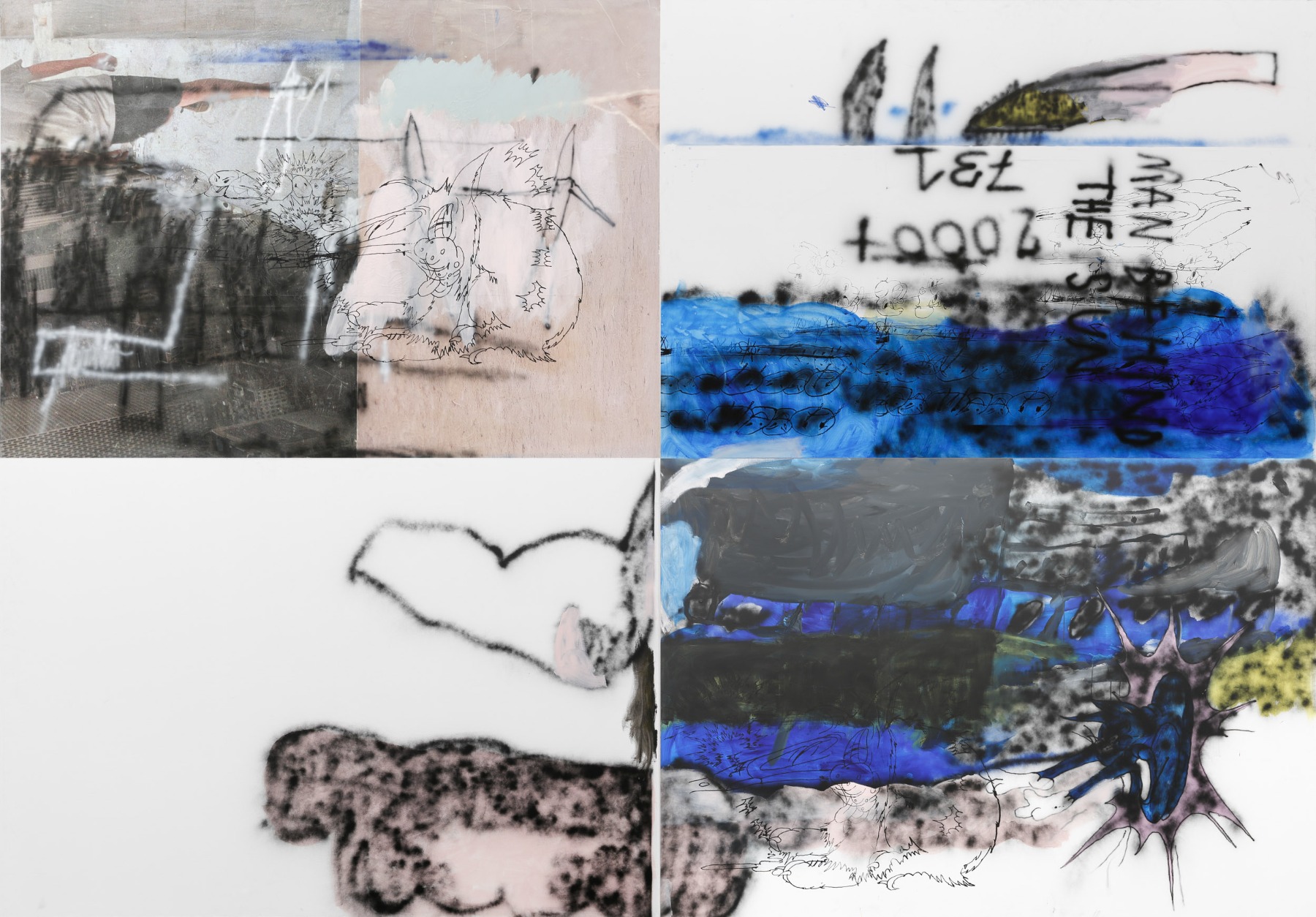 I contacted Jakub and asked him to answer a few questions regarding his new project. He took his time doing that and subsequently made some corrections to his earlier responses. The artist obviously is very serious about his own words, just like everything else he does and produces.
The exhibition is called HEAVY DISNEY, but it evokes my childhood memories of Tom and Jerry cartoons by another studio, Hanna-Barbera. I really liked them, but I always somehow felt sorry for Tom, who constantly lost and received cuffs from Jerry... What is encrypted for you in the title of the exhibition, how important is the reference to the culture of animation, dynamic, catchy and sometimes quite aggressive?
JAKUB GLIŃSKI: The word DISNEY is associated with cartoons, also with usually a carefree and pleasant period of life, while the word HEAVY in a way checks this reality. Those two contradicting words also refer to the two foundations of the exhibition. The first being cartoon freeze frames, where everything is supposedly cheerful, but there is violence shown, which we may not have been aware of as children – we simply didn't notice it. It's also important to note that these scenes were always accompanied by cheerful music, so this violence reached us imperceptibly; violence is inscribed in human nature – it exists within us and throughout history. The second foundation is the book I recently read about Unit 731, which was a military unit that tested the effects of chemical weapons on prisoners of war during WWII. Through all this the exhibition deals with the subject of human ferocity, posing a question about civilizational fascination with brutality against personal experiences, emotions, and working with them.
Jakub Gliński, Anger transference, 2023, acrylic on canvas, airbrush, screen print, 6-panel painting, 345 x 260 cm, detail. Courtesy the artist and Gunia Nowik Gallery
Did the events of 2022 affect these works? Did the war in Ukraine turn out to be the one that aroused interest in the topic of violence and how it is embedded in us, programmed?
JG: The war had already an impact on my previous MEMORY REMOVAL exhibition at the City Gallery in Wrocław, which I started painting two days before February 24th 2022. The main theme was my memory, but working on it helped me regulate my emotions related to this traumatic event. The subject of atrocities, and what a person is capable of in order to survive traumatic events, has interested me for years. Due to the fact that I work very intuitively, everything is synchronized and what is happening in the world right now penetrates into what I do. It's just that my subconscious decided that this is the right time to raise this topic.
Jakub Gliński, HEAVY DISNEY, individual exhibition at Gunia Nowik Gallery, 2023, exhibition view. Courtesy Gunia Nowik Gallery
This is not your first exhibition in GNG, you know this space quite well. And, apparently, there was a desire to somehow transform it, re-format it. What was your plan in this sense?
JG: This is my second exhibition in the gallery, and I didn't want it to resemble the previous one – YOU ARE TOO CLOSE (2021) – in any way. The show was created especially for this space, but I decided to radically change it by bricking up the windows and hanging the works on these completely new walls. I also changed the perception of the new works, not only by transforming the gallery space, but also by hanging the paintings on metal structures at a distance from the wall, introducing a sculptural, spatial feature to the exhibition. Moreover, I marked the gallery corridor wall with a specially created wallpaper referring to cartoon freeze frames.
Work on the left: Jakub Gliński, Indifferent, 2023, acrylic on canvas, airbrush, screen print, 210 x 150 cm, installation detail. Courtesy the artist and Gunia Nowik Gallery. Work on the right: Jakub Gliński, Life leftovers, 2023 acrylic on canvas, airbrush, screen print, 150 x 150 cm, installation detail. Courtesy the artist and Gunia Nowik Gallery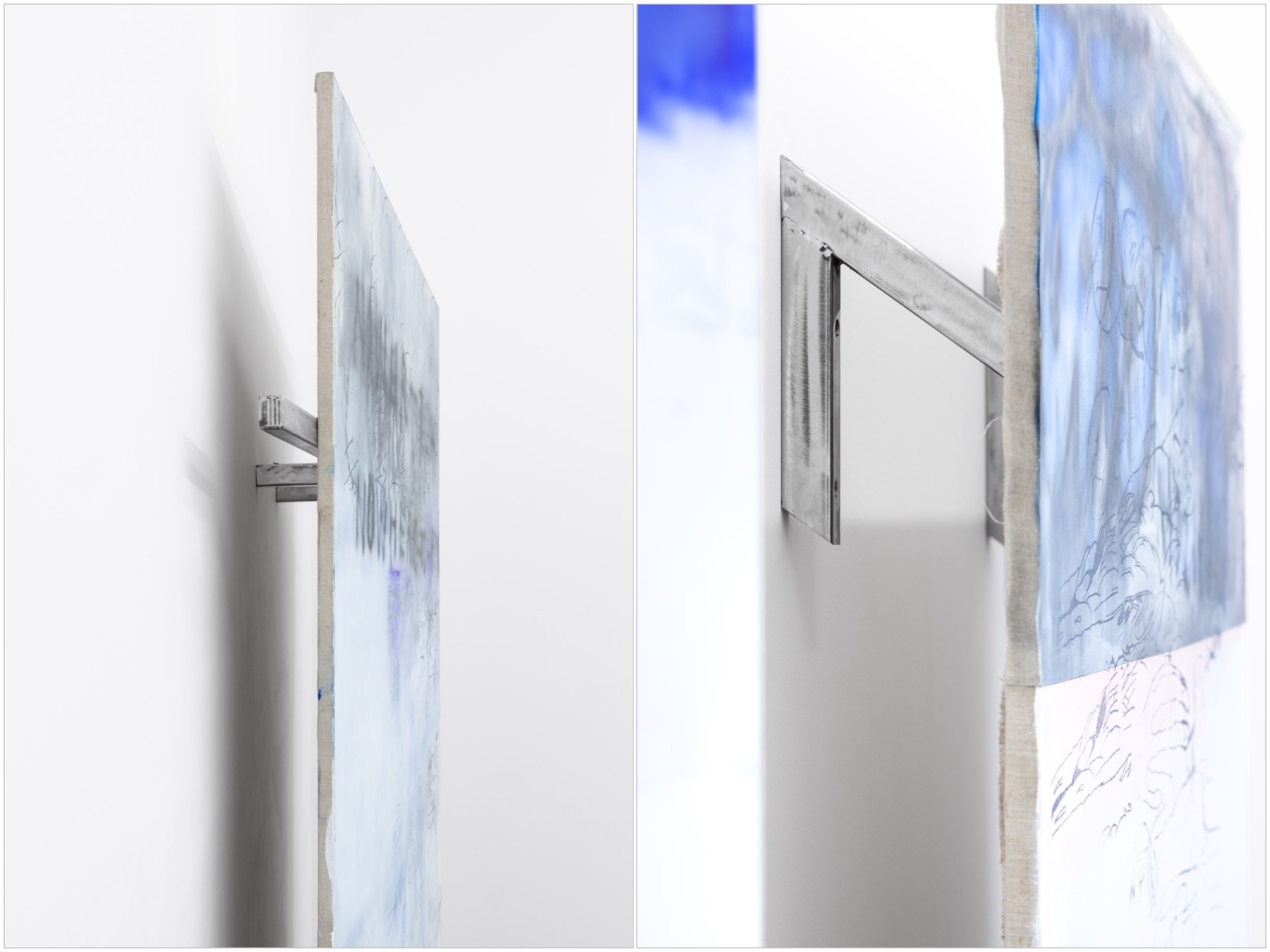 Why are you interested in painting as a medium? Are there still some free opportunities, not already presented to the world? What could be the future of painting?
JG: I am interested and work in various media, such as video art, music production, performance, and of course painting. But each medium serves a different purpose, helps to filter reality in a completely different way, and brings forward individual emotions. Performance helps me deal with aggression and anger, while painting helps me express other emotions in a distinct way. Since painting as a medium develops most dynamically for me, I automatically started to devote most of my time to it. The future of painting, that is, classical painting, is not threatened by anything, but another form of painting, related to the metaverse, will probably also appear, and it will certainly be a thriving branch of it. I am open to all these new phenomena.
Jakub Gliński, HEAVY DISNEY, 2023, acrylic on canvas, digital print on cotton, airbrush, screen print, 4-panel painting, 350 x 500 cm. Courtesy the artist and Gunia Nowik Gallery
Do you work with music? If yes, what kind of music is it? If the watcher will also listen to it could it help to go deeper into your work, to understand it better? Or do ready paintings need silence, not sound?
JG: It's interesting that you ask about music, because for this exhibition I was also supposed to introduce sound - low frequencies, hums like broken air conditioning, something that causes anxiety or vibrations in your body. But the work itself was so strong that I gave it up. However, I think I'll come back to this in the future to add one more level to the reception of the paintings. This sound must be very consistent with the images in order to become a whole unit. Music production was actually the first medium I worked in. I created noise, dark ambient, dance music and sound collages. I used to have a radio show on Radio Kapitał "To stop moaning, fall asleep and die". I actually sample reality, pop culture and history in my paintings, so somewhere this method which I'm using while making music can also be found on my canvases.
Jakub Gliński, Human inhumanity, 2023, acrylic on canvas, airbrush, screen print, 150 x 150. Courtesy the artist and Gunia Nowik Gallery
Jakub Gliński, HEAVY DISNEY, individual exhibition at Gunia Nowik Gallery, 2023, exhibition view. Courtesy Gunia Nowik Gallery
Jakub Gliński, HEAVY DISNEY, individual exhibition at Gunia Nowik Gallery, 2023, exhibition view. Courtesy Gunia Nowik Gallery
Jakub Gliński, HEAVY DISNEY, individual exhibition at Gunia Nowik Gallery, 2023, exhibition view. Courtesy Gunia Nowik Gallery