Dialoguing Against Polarity
In Riga, the directors of four European art biennials discuss the challenges of the time and the potential of biennale as a form of contemporary culture.
In the middle of July, the participants of Perennial Biennial visited Riga to share their experiences and discuss plans for the future. According to their website, «the Perennial Biennial runs as a year-round collaboration and aims to challenge and further the field of biennial practice and strengthen European biennial collaboration across five partners in Germany, Latvia, Slovenia, Norway and the UK and in partnership with the International Biennial Association (IBA). Liverpool Biennial, Berlin Biennale for Contemporary Art, Riga International Biennial of Contemporary Art (RIBOCA), MGLC (Ljubljana Biennial of Graphic Arts) and Bergen Assembly have worked together on this programme for four years from September 2018. The project supports research, writing and the formulation of new narratives in the biennial field through collaborative working, staff exchanges and the sharing of expertise and models for sustainable practice. Its aim is to create a dynamic European platform of exchange which will strengthen the contemporary art sector at a global, European and local level».
This summer, the platform participants – Gabriele Horn, Berlin Biennale director, Sam Lackey, Liverpool biennial director, Nevenka Sivavec, Ljubljana Biennial of Graphic Arts director, and Anastasia Blokhina, RIBOCA executive director – met in Latvia specifically because they were interested in learning about the process of "reformatting" the art biennial into a distinct socio-cultural institution, like the humanitarian refugee center Common Ground, which was opened by RIBOCA team and other volunteers this spring, after the decision had been taken to postpone the exhibition for the next year.
We couldn't miss the opportunity to discuss the dangers and possibilities of the current moment with the leaders of these important European institutions, to learn their vision of what a biennial might look like in the future. The discussion took place in the RIBOCA office on Ausekļa street. Antje Weitzel, project manager of the Berlin Biennale, also participated in the discussion.
I think that during this session you had a lot of discussions, and maybe you also discussed the overall climate we're in. Two and a half years ago, when the pandemic started, we were thinking about returning to "normal" in one or two years. Now these two years have passed, and we really can't say that we have gone "back to normal". So what have we arrived at? What is this situation unfolding right now? What are your feelings on it?
Sam Lackey: What we've talked about, that this is still a moment of vulnerability and fragility, but that there's also strength in that. Yesterday we went to the Common Ground center. And that was one of the reasons we decided to come to Riga, even though the biennial has been deferred – to see how different models and different points of strength can arise from this moment of vulnerability and fragility. This is something that's come up in our conversations a lot.
But what about this "normal life"? Will it ever come back? Or has the notion of "normal" been an illusion in the first place?
Nevenka Šivavec: We all noticed, especially during this summer, with the opening of Documenta and several European biennials, that it seemed impossible to go back to previous conditions. Moreover, the biennial structures can experience a change in their daily activities and practice. We could never go back to "normal," to the situation before the pandemic and the war in Europe. We discussed that our Perennial project had been a series of shocks during the last few years. First, we faced problems with the logistics of organizing our biennials, and now we are anxious about our financial situation and stability for the next few years, as well as the politically affected scrutiny. So the discussion also went along the lines of alternative ways of curating or collaborating, transnational solidarity, that kind of thing.
Gabriele Horn: In general, I would say, we are living in uncertain times and in a very insecure moment, not really knowing what the future will bring. We can certainly say that we are facing a serious climate catastrophe, we will face an economic crisis, most probably an energy crisis and everything related to that. And, of course, the war itself is a nightmare. But when it comes to cultural institutions, especially in the field of contemporary art, biennials as a format are probably the most flexible instruments to react to those difficult moments of vulnerability and fragility. And that's very visible here in Riga, where the biennial decided: in this specific situation it's important to postpone, to focus on building up the Common Ground first, and to dedicate more time to the social field. Ultimately, this decision is not only a decision to react to political, social and geopolitical realities. It is a decision to put togetherness in the foreground - here political and social conditions intersect with culture and art. I think this flexibility is only possible by non or semi-institutional spaces. We all admire how that happens in Riga, due to the actual situation.
Anastasia Blokhina: To answer your question directly: it's not normal, and it's never going to be normal. But what is "normal", normal is a label, normal is a construct. And it's a very relative category – in philosophy, in life, everywhere, because normal is different for every human being. So the only thing one could focus on (like in terms of human feelings and protecting yourself) is just doing whatever you can to maintain what is normal for you, be it within the family, within an organization, within a household, within a refugee center, within a governmental institution. So we're just focusing on giving back, giving back something that stabilizes the whole situation. From a human perspective, I would say that's the most important. And in terms of coming back to normal, I don't think we need to focus much on that, rather than just adjusting to reality and being kind and loving and supportive. Because what is normal? Traveling around the world for exhibition openings? That's happening again, and that was happening during the pandemic as well. Human beings are very adaptable. And just being kind and responsible and loving, I think, that's the main thing.
And in terms of the biennial structures as common grounds, I think, our Common Ground project is maybe one of the most precious experiences in my life. And one of the toughest as well. The nature of this project is that it was led by heart. And I think it's also going to push the institution forward in terms of getting to know all the perspectives on what art can do for people. It's not just words, it comes with our actions. Some moves that actually prove that art can help people and that everyone has a social responsibility.
But does the biennial model still make sense in this rapidly changing world?
NŠ: Again, what was considered "normal" for a biennial environment and its infrastructure in the past? It was mainly a concealed competition, the hierarchy among biennials, between essential and influential and wealthy and the others, poor minor cousins; there were - and still are the A, B, C, and D leagues of biennials. They mirrored each other constantly thought: impressive artists and curators lists, expensive new commissions, paid media coverages - that was the ideal peak of the pyramid. The good side of leaving that kind of "normality" behind is that we can finally start thinking in new terms like why and for whom we are doing it in the first place. Each Biennial should openly search for its authentic purpose and interest. However, a biennial as a format generally still has enormous potential, especially for smaller places like Riga or Ljubljana, because, as already said before, a biennial can act quickly and adapt instantly; it has this enormous resilience potential.
But still, a biennial has chosen its subject, the preparation period has started, it takes time to make it happen. Then the war in Ukraine bursts out, now what should we do? Should we change the subject and the whole concept of the event? Do biennials have to react immediately, or should they stick to whatever plans they had during the long preparation period?
GH: This needs to be decided by the particular Biennial. For the actual situation: a non European Biennial may decide differently here than a biennial that is geopolitically positioned next to the conflict zone.
It is also a question for the invited artists. And – to be honest: showing works of contemporary art is our main purpose. Biennials/Contemporary Art cannot change the society. But it is more than ever, important to follow the approach, by the artists. Because they are the ones who are telling us stories from the past and from today and they are also the ones envisioning the future. While looking at their work we move our thoughts in different directions which could open up other and new perspectives besides digital and market driven communication channels.
AB: In terms of the reaction of the institutions, I completely agree with Gabriele, we are what our artists do and what our curators think. The strong point of the biennial format is this reinvention of yourself every two years, when you get a different curator, different artists list and everything else. But there is no such thing as an obligation to react or not. Considering the flexibility of the biennial format, this two year reinvention cycle allows us to work with the most relevant topics, the ones the artistic world is concerned with "right here, right now". I do think that contemporary art, as a forward thinking institution, obviously can't stay indifferent to the reality of war, or any conflict, as Gabriele was rightfully saying, especially when it's at your doorstep. But there is no instruction on how one should react. It's a matter of people, desires, constraints, fundings, deadlines, projects…
Anastasia Blokhina. Photo: Kristina Madjare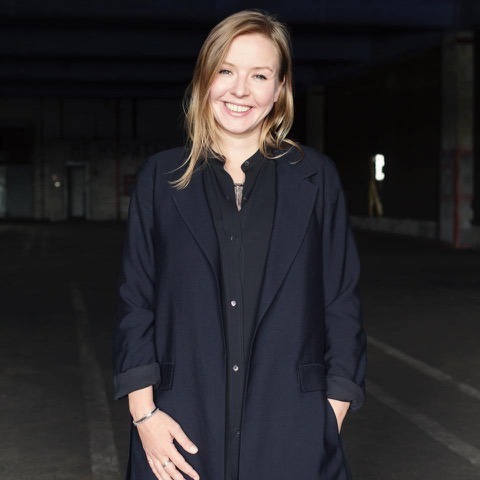 But also, speaking about the current situation… Many art institutions are very supportive and open to Ukrainian artists, which, of course, is absolutely the right thing to do, no doubt. But at the same time how do you deal with artists from Russia? Is there some kind of common approach to it, or is it also an individual matter in each case?
SL: It's complicated, working in the UK, for a UK organization, in a country that's decided to remove itself from the European context. So I think other people will answer that differently. I guess that, taking us back to the idea of the normal, this moment is the normal for now. And, yes, it's a series of shocks. And in the UK, the shocks have also included the removal of Europe, the fact that last week was the hottest day on record, ever, that there is a war on the mainland. It's perpetual. A current of shocks. And being part of this group has been an act of solidarity around thinking through relationships, and how to operate and perhaps see the possibilities for taking action...
Yes, but what about Russian artists?
GH: This is a question of dialogue – and biennials also offer space for dialogue. Of course also a lot of Russian artists are critical about what is happening, many of them have even left the country. We need to support this kind of resistance, and create spaces for dialogue outside the war-countries. What is particularly happening, but should not happen is that artists from Russia and Ukraine don't want to be shown in one exhibition/one space…. It is understandable, but looking at the future, we should act as human beings and should go for a common future. Definitely we will not stay with this war! We need to facilitate / encourage and participate in dialogue and engage in it, even if we have different opinions. Only by speaking and dialoguing to each other we can really find a way.
NŠ: Generally speaking, Russian artists can participate in Ljubljana Biennale. There was of course, strong support for Ukrainian artists in Slovenia, but Russian artists, particularly those who had to leave because of their anti-war stance, were not banned in Ljubljana either. The initial madness with ideas such as not performing Tchaikovsky or not printing Dostoevsky was luckily never the case in our cultural context.
However, what is also significant nowadays is that politics, government structures, and the general public scrutinize contemporary art more than ever. Take the recent case at Documenta and many others. Besides, right-wing political parties are gaining more power and influence. The cultural sector in Slovenia experienced the control of the right-wing government for the last two years, which was a severe reality check for contemporary art institutions.
Nevenka Sivavec. Photo: Urška Boljkovac. MGLC Archive
Like in Poland?
NŠ: Similar, very similar to Poland or Hungary. Our former government was really close with the Polish and Hungarian governments.
You've mentioned the documenta case. One work there was banned from the exhibition. And its authors' collective didn't explain their work in detail as many were waiting. Do you think an artist has a right not to explain – to give the audience the freedom of interpretation?
GH: I don't think that artists in general have to explain their work/s, but the matter is complex due to the region and due to the audience you are facing as an artist or as a curator. Fortunately, we are not anymore in the "Wild West", means it's a difficult question. Yesterday, we also talked about solidarity and support for political causes in different regions of the world which can be reflected in biennials because of censorships. The question of censorship is one example. Perhaps it is a matter of togetherness recognizing that nudity cannot be shown everywhere.
Do you think contemporary artists are now more inclined towards some kind of activism, with their works being reactions to social issues, or are they into the aesthetic field?
SL: I think that, in this conversation, we keep talking about things like "it's this or this". Like normal/not normal, aesthetic/activist. I think, in the moment we're now, there's a great desire for that clarity of polarity in our political context. But the truth is that this set-up – "one against the other" – doesn't really tell the story of how artists live in the world, or how they make their works, or how we can mediate that work with all the other people who live in the world. So it's difficult to respond to that question with an answer…
Sam Lackey. Photo: Mark McNulty
Like "yes" or "no", for sure.
NŠ: It is crucial that if an artwork is declared activist or political, it needs to be extremely precise and responsible. There has to be a reason behind political art; it is a huge responsibility. The era of "salon" politics disguised as art in exhibition spaces full of photocopied quotations by Agamben, Foucault, or Rancière on the walls is over.
AB: To actually get back to the polarity we keep discussing... As conveners, as people involved with artists who work with very complicated sensations and with all kinds of shades, we shouldn't limit ourselves to labeling things as black and white, aesthetic or socially engaged, good, bad, left, right. Because a lot of constellations and threads are always in between. So for us the polarity that is now being demanded, or rather expected, is a very complicated situation to live in. It seems that our attempts at mediating art and promoting critical thinking haven't reached enough people. It feels like we haven't really done our job properly. So it also makes me feel uneasy…
But as long as we're following that thread, I'll get back to the topic of Russian artists. I think many wonderful artists stayed in Russia. And they do their partisan job, actually. They risk their lives and freedom with every action they take. And their works are getting censored and removed. And I think there's no answer to the question "what should we do with Russian artists?" But there's quite an answer on what we should not do. We shouldn't cancel them. We should be cautious. And we should be mindful about the feelings of Ukrainian artists, but also Russian artists, and any other artists, any other person involved in our institution, any other collaborator – we should be mindful about their feelings. In Russia, artistic activism has been under fire for quite a long time, doing it was very problematic, but now it's really being oppressed. So I do believe that the brave people who fight for the right to be heard need support in whatever capacity we can. So that's my opinion.
Speaking about polarity, I'd like to bring up another "polarizing" issue. We have already mentioned the documenta, a show created by a collective. Do you think a major biennial exhibition should still be a personal responsibility of its main curator or is it really moving towards a more collective practice where the responsibility is divided between the members?
AB: I must say that I haven't seen documenta yet. I will go there next week. But in terms of collective work I think for any kind of process it's always beneficial to hear other people's thoughts. Creating this collegial feeling within the Perennial Biennial was also very special for us. And in terms of divided responsibility, I think we need to understand whether it's about the division of responsibility when someone is taking finances, the other does production, the other one is on communication and dissemination, et cetera. That's one thing. But in terms of the collective responsibility for the result, for the message of the event, I do think that the message should be strong in the first place. A strong message and a strong voice can belong to one person or can be generated by a collective.
GH: I would say the same – for producing art in general, or making an exhibition – there's no obligation to work in collective structures but it is necessary to think together, to address / approach it as a collective. To get something moving.
AB: And to be aware of the different sides within this message, to be sure that the experience is looked at collectively so we can have a sphere rather than a flat image.
NŠ: What about the collective responsibility when things go wrong? At the end of the day, the director of documenta has to step down…
Antje Weitzel: Ruangrupa are the curators of documenta fifteen, but they invited other collectives and divided this responsibility of curating, because these other cultural producers they invited could then invite others. That is a very specific curatorial concept. We are talking about collective thoughts, collective processes. It's not so much a collective as curators but about the curatorial process.
Gabriele Horn, Director Berlin Biennale for Contemporary Art. Photo: Karin Müller, 2014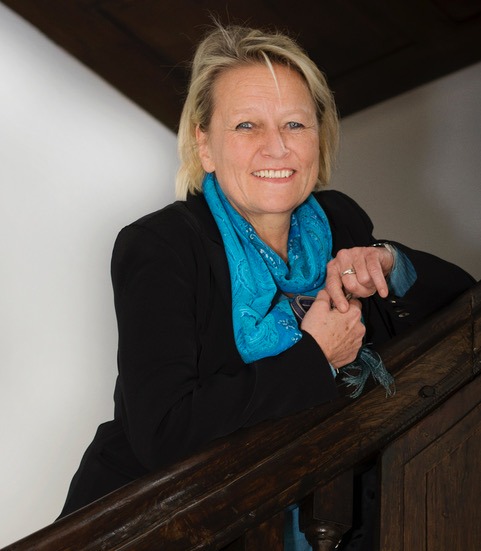 But you think it's a trend?
AW: No, there are many ways to curate a show. And there are many ways to try out different curatorial practices of exhibition making. At the same time, a large-scale show is not done by one person alone.
Another thing I would like to mention is the specific appeal biennials have as events. I even heard an opinion that you can say whether a biennial was successful or not by counting how many children were among the viewers. So you can see that the biennial is inviting not only the educated audience, capable of perceiving art at all the levels, but also unprepared viewers, which are more attracted by the biennial as an interesting space or territory where something funny, strange and inspiring is going on.
AB: I think, obviously, that the artistic content and what we're trying to create with the exhibitions, is something that should reach as many people as possible. In terms of dividing the audience into the educated and the unprepared – we've actually never done that. We've been trying to find a way of mediation that can reach every community. And I think working with communities is very important, working with children and schools and… I don't know… taxi drivers, is what we need to do. There is no main focus within this audience. There are different communication tools in order to get through to different people, since the so called "educated audiences" will come anyway. For example, we've just heard from our colleague Ingrid from Bergen Assembly that they are encouraging a lot more people from Norway to come to Bergen with a partnership that allows them print adverts on train tickets. So there are many different ways. In general, I wouldn't evaluate anything through any specific category, be it the number of artists or the amount of kids at the exhibition…
GH: Another question is whether the biennial can drop the entrance fee. For example, the Sao Paulo Biennial is an event with a long history and it has free admission. There's a tradition for each school class to go and see the Sao Paulo Biennial. When you have a biennial with an entrance fee that might not be affordable for somebody, it's another condition altogether.
AW: Let's turn the question completely around: I think, we can agree here in this round, that we all work against the myth that you have to have special education to look at contemporary art. It's not for "the educated" only, everybody can understand contemporary art – there is no right way to look at an artwork. The artist makes a proposal that, once presented to the public, can be interpreted in many different ways.
GH: As soon as the artwork enters the public view, it can be read, and it can be read from all possible angles. It is completely open. Of course, one can also try to mediate the artist's intention behind the work, but it's not necessary. The person in front of an artwork just needs to be open and read it.
And maybe the last question, you represent the art institutions and art events from different parts of Europe. Do you feel this common European context is something existing on its own terms? Or is it something constructed, and you have to reconstruct it every few years to keep it going? How are European art institutions doing right now? Is it easy to make something together?
NŠ: We all have massive hope for the European Union – this political project has to stay and needs to be supported because it is the only guarantee for the region's future and the world in a geopolitical polarization. However, as far as common European values ​​and identities are concerned, one needs to be highly cautious. They can easily subvert in exclusion of other cultures.
AB: Of course there is a European context, but there's also unity. The countries we represent, the nations we represent are very different with their own cultural codes, their own political situations, their own structures and similarities and differences and conflicts and everything else. But the main thing is the mindset, the values and goals we have in common. I'd say the values are the most important thing and here we have a structure that supports these values, brings them to life.
Here in Europe, we also have Western and Eastern Europe. Are they becoming more and more alike, reaching this unified European point of view, or is Europe still a very divided platform?
SL: I'm just thinking about this idea of shock and normal that we opened this conversation with, and how you can respond to those shocks – with active solidarity and coming together and support. And the alternative is a kind of defensive action of removal. And while these things can operate at the same time, within a cultural context, my experience has been that in this moment of pressure from uncertainty there's a value in that togetherness. Coming together is the alignment that can account for the complexities and difficulties in all the very different situations in Eastern Europe and Western Europe.
GH: And we come again to the question of dialoguing and communicating. That's the only way we can break the polarity – only by dialoguing.
So, we close off with this struggle against polarity…
AB: Yes, dialoguing against polarity.
Dialoguing against polarity. Thank you very much.