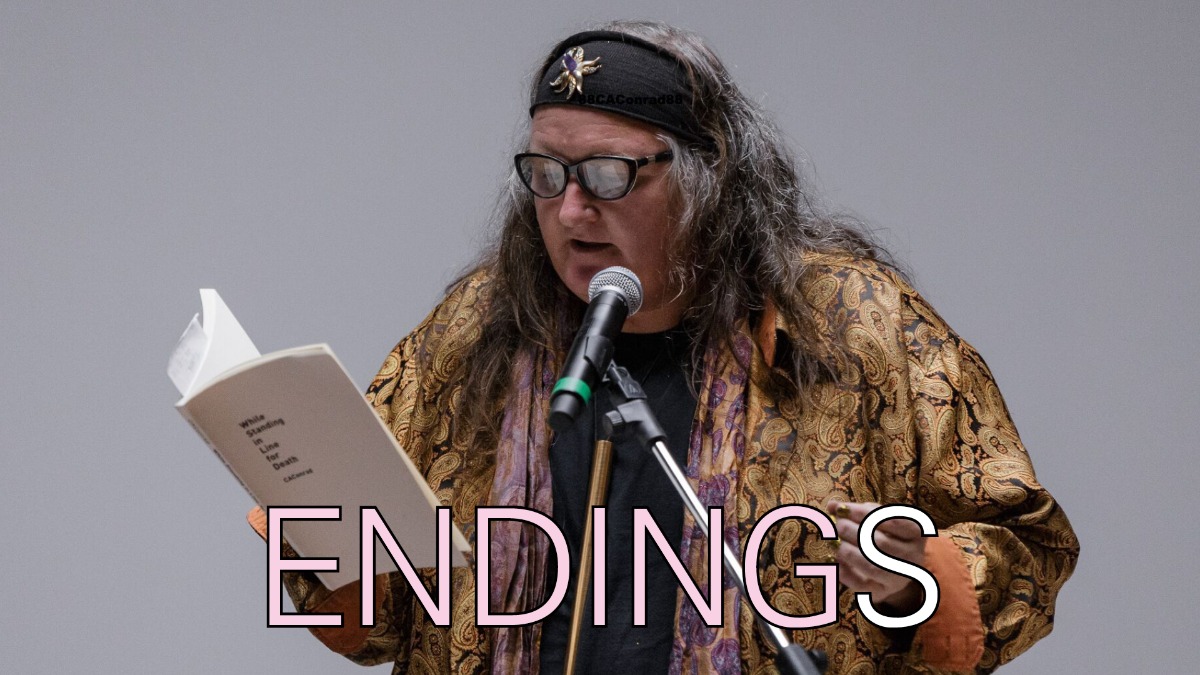 The Best Rituals Are When The Unexpected Inserts Itself
The American queer poet CAConrad (1966), with an impressive, colorful personality, is described by The Paris Review as having what they call their "war hair," (a long, grey mane, which they haven't cut since 2006 in protest to the US war in Iraq), with their "androgynously soft features, painted nails, bright shirts, and quartz crystal necklaces, [they] might certainly appear to some as a "lunatic."" [1] They create their poetry under the influence of extravagant daily rituals, the essence of which entails being completely in the present, free from the traumas of the past or constant worries about the future.
The descriptions of these rituals and the instructions for performing them are an integral part of CAConrad's creativity, and at times these actions take on a role of more significance than the ensuing poems that are later professionally polished and graphically designed for publication. Here, for example, is one touching retelling of a ritual that CAConrad likes to share in events such as talks at US literary departments, creative master classes, and artists' gatherings:
"Denise Levertov is buried in Lake View Cemetery in Seattle, Washington. For this (Soma)tic poetry ritual I would first walk through Volunteer Park which is next to the cemetery […]. I would then walk into the cemetery, giving myself 27 minutes after passing through the gates to locate the poet Denise Levertov's headstone. If I did not find it I would spend an hour in front of the grave where I stood. Bruce Lee is also buried at Lake View and his dedicated super fans would take the pilgrimage. Throughout the afternoon young men whipped off their shirts to do marital arts moves in front of the headstone while their girlfriends made videos with their phones, those distinct sounds Bruce Lee made with his voice being imitated, echoing throughout the cemetery. I am certain I am not the only one to read a Denise Levertov poem aloud with Bruce Lee sound effects as the backup vocals. I would read, "He himself must be / the key, now, to the next door, / the next terrors of freedom and joy.
The best rituals are when the unexpected inserts itself. One day while looking quietly for Levertov there was a young man watching me. He was dressed in black with thick black eye liner and fingernail polish. He wanted to know what I was doing, said he had been watching me. I asked why he was there and he told me he liked to masturbate behind a shrub while watching the half naked young men do karate. What shrub, I didn't see a shrub. He took me to the shrub that was no one where near Bruce Lee, but of course we could hear the super fans making their warrior cries. We had sex everyday from that point on, and it became part of my ritual and part of my notes for the poem. […] The notes became a poem titled POEM AS STORM NOT AS REFUGE." [2]
In other cases, CAConrad's method of creativity is dictated to readers as a purely technical task meant for self-help:
"Go to a shopping mall parking lot with trees and other landscaping growing between the cars to create this poem. Find a tree you connect with, feel it out, bark, branches, leaves. Sit on it's roots to see if it wants you OFF! These trees are SICK WITH converting car exhaust and shopper exhale all fucking day! Sit with your tree friend. Don't pay attention to the cars coming in and out of the parking lot, you're here to write poetry, not to worry about what a lunatic you appear to be." [3]
CAConrad has entitled this practice (Soma)tic Poetry Rituals, in which the bodily (somatic) experience is equally important to the tics of reality experienced within it, with the routine and precision characteristic of the ritual, and the flow of consciousness fixed in the form of automatic writing. There are also specific instructions for "post-processing" the notes made during these rituals, and as the author has repeatedly shown, such poetry may have revelatory value. The value of previously unnoticed phenomena, of postponed or unwanted thoughts avoided due to fear, insecurity and daily busyness.
If during a pandemic it's not possible to indulge in poetic casual sex in a graveyard or to hug trees in a storefront, then in these times of isolation one could record their feelings of carefully listening to the sounds of the fridge, or begin noticing and recording the happenings through others' windows in muted movies.
CAConrad's many art commentators and the poet themselves emphasize that this practice is by no means an irrational oddity. The discovery of poetry at the age of eight has helped them to cope with childhood traumas, which are remotely comparable to the JT LeRoy drama in the world-famous novel "The Heart Is Deceitful Above All Things": a teenage mother, the violence of several stepfathers, fleeing home, helping provide for the family, selling flowers by a highway and stealing from shops with their mother. As well as secretly reading Dickinson and Mayakovsky in a small Pennsylvania town, where the only socially acceptable literature was the Bible and the TV guide.
CAConrad's running away to Philadelphia in the 80s is also chrestomathic, the enthusiasm of a naive country boy in the informal, metropolitan literary setting (for example, in the work set in the bookshop "Giovanni's room"), and queer activism during the AIDS crisis. CAConrad's poetry became a deliberate ritual of self-therapy after their partner was violently murdered in 1998, in still unexplained circumstances. The echoes of this event and the helplessness and despair associated with it developed these rituals further, including both reiki and occult practices (such as crystal magic and spells) as well as the resulting poetry. However, they became a published and recognized author only many years later, at the age of forty. CAConrad talks about this experience in Belinda Schmid's and David Welch's documentary "The Book of Conrad", 2016.
The author of 9 collections of poetry and essays, has received numerous awards among them the highest LGBT prize for literature, the Lambda award, for their work "While Standing in Line for Death" published in 2017. Among the winners of this award are also Tony Kushner, Alan Hollinghurst, John Cameron Mitchell and André Aciman with the book "Call Me By Your Name".
Just now, on May 13, critic Jillian Steinhauer included CAConrad's instagram account in her The New York Times article "Five Artists to Follow on Instagram Now" [4] where CAConrad maintains their peculiar pandemic diary called "Corona Daze", publishing a poem almost daily along with moderately dystopian photographs. They are also no less active on their blog. In preparation for an online performance for RIBOCA2 this week, CAConrad recommends us to visit the blog and get acquainted with the techniques of (Soma)tic Poetry Rituals.
CAConrad's visit and performance in Riga would be a no less important and exciting event for me personally than the visit of another legendary American Queer artist Baby Dee, and I look forward to the first meeting with CAConrad with a similar anticipation.
CAConrad's live performance will take place as part of the Riga International Biennial of Contemporary Art weekly Series of Talks and Conversations, which brings together outstanding thinkers, researchers, and writers from various fields. CAConrad's performance will be aired at 19:00 Riga-time on Thursday May 21st www.rigabiennial.com