RIBOCA2 and suddenly it all blossoms from 20 August till 13 September
The 2nd edition of Riga International Biennial of Contemporary Art (RIBOCA2), and suddenly it all blossoms, curated by Rebecca Lamarche-Vadel, is open to the public from 20 August - 13 September 2020, bringing together 65 participants and 9 collectives across 200,000m2 of the historical Andrejsala industrial port area in Riga.
REIMAGINING THE BIENNIAL
Since the inception of the project, curator Rebecca Lamarche-Vadel's proposition was to reflect on the end of the world we live in, and to investigate the building of a new one with space for other voices, sensibilities, and ways of making relationships. The Biennial had thus been proposed as an alternative to the torrent of hopeless narratives, taking the notion of 're-enchantment' as a frame for building desirable presents and futures. and suddenly it all blossoms grew from the Latvian and Baltic context, where worlds have ended many times, over centuries of occupations, wars and economic upheavals. Lamarche-Vadel says: The collapse of the world, which the show was speculating on, actually happened, offering a challenging yet historical chance to make RIBOCA2 even more relevant. Amidst the Covid-19 pandemic, our ways of building and understanding relationships are being confronted, as we realise that we, porous to visible and invisible interactions, are participating subjects in a broad and diverse landscape far more complex than our bodies and minds alone.
RIBOCA2 venue Andrejsala, photo by Elena Kononova
ON VIEW
On approaching the RIBOCA2 district in Andrejsala, visitors first come across a new series of billboard poems by Hanne Lippard. These texts evoke the "contactless" relationships that build the world we live in, its speed, ephemerality, and distance towards one another. Passing the gates of this immense territory and entering the first hangar, visitors stumble upon Ugo Rondinone's monumental rainbow sculpture 'life time', opening up perspectives on our understanding of time and existence. Due to the impossibility of transporting the original work, a new version was reconstructed in materials sourced locally in Riga. Hanged on a brick wall above a small door, the work stands as the prologue of an exhibition built as an odyssey. Passing this threshold, visitors encounter a wide field of stones and rubble of demolished buildings from around Riga, transformed daily by Bridget Polk's rock balancing practice. The ephemeral and almost magically built sculptures are held in seemingly impossible balances and stage a poetic re-appropriation of ruins and building of new worlds through patience and resilience.
Ugo Rondinone, life time, 2019, neon, acrylic glass, translucent foil, aluminium, 248 x 752 cm, courtesy of Studio Rondinone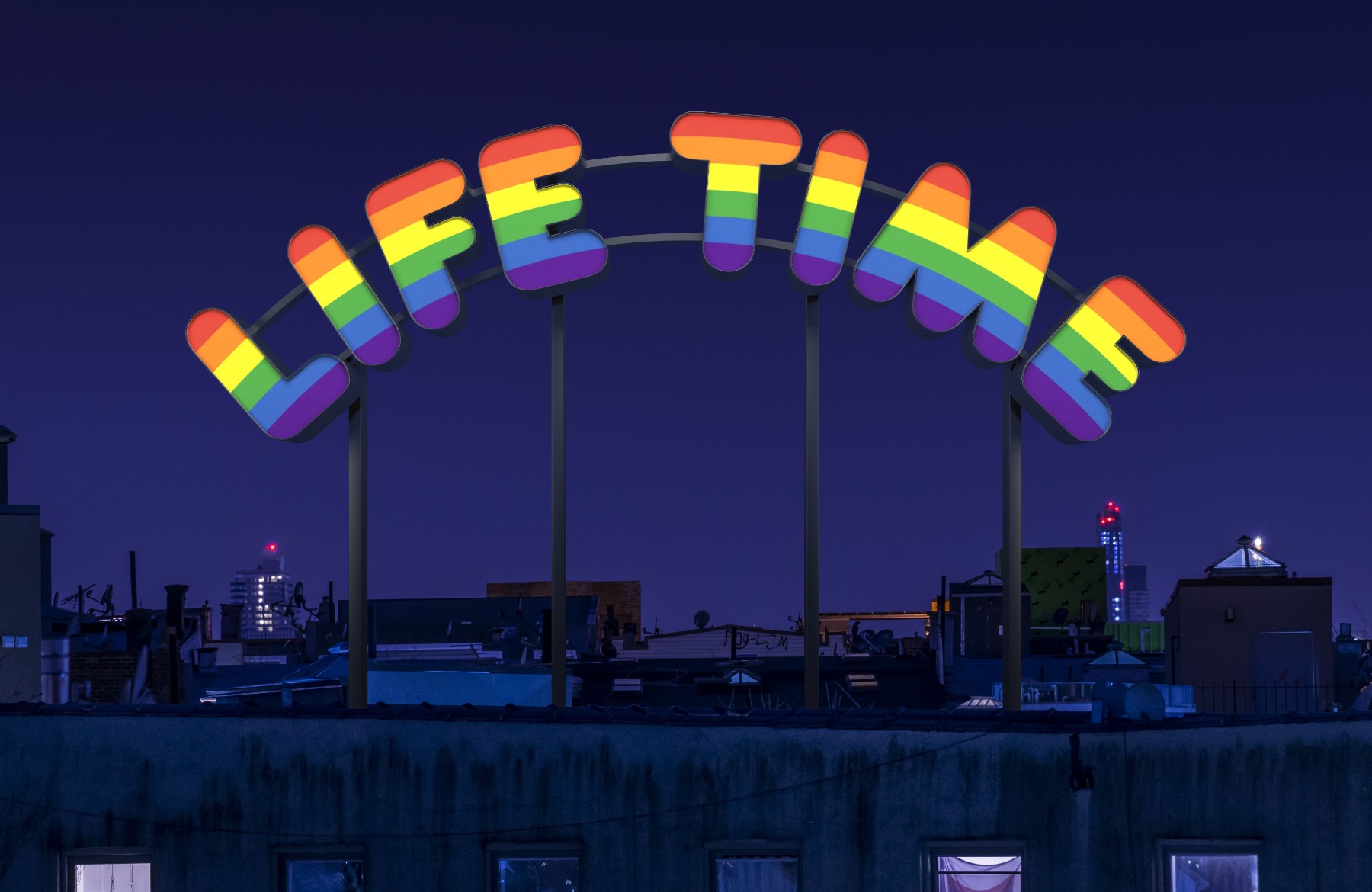 Continuing through the site, an installation on the waterfront by Lina Lapelytė and architect Mantas Petraitis, who have recreated the log-driving practices from Riga's timber trade industry in the Middle Ages – when workers balanced on logs being transported down the river – reflects on the relationship between men, natural resources and the force of the river in a performative representation of vitality and desire.
RIBOCA2 venue Andrejsala, photo by Andrejs Strokins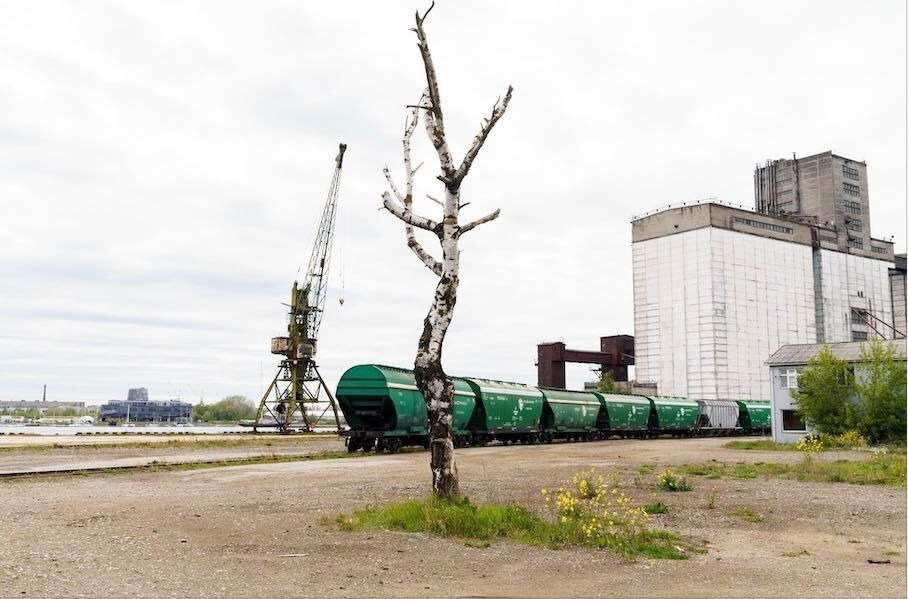 The largest venue of the Biennial is a former port building with 36 works on view. Valdis Celms, a pioneer of the Latvian kinetic art movement, has realised two projects first designed in the 1970s - large-scale kinetic sculptures that aim to invoke cosmic movements and energies that exist beyond human perception. Pawel Althamer's installation is now a vast empty room in the exhibition space, which will gradually be filled by the visitor's contributions. Originally planned as a celebratory, collective and Dionysiac drawing session for the night of the opening, the work had to be reinvented.
By using the universal technique of crochet to explain a complex mathematical theory that has revolutionised the understanding of the world, Daina Taimiņa make geometries of chaos and disorder accessible. For months, the public had been invited to collaborate, with more than 600 crochets being sent from all over Latvia and the world, including the US and Australia. Augustas Serapinas initially planned to make copies of a hundred snowmen on Riga's streets as an homage to the artistic collaboration between individual imagination and the earth's resources. Historically warm weather this year prevented snowfall and Serapinas decided to work with locals to find ways of building snowmen using soil, engaging us to imagine what kind of rituals will replace this tradition as snow becomes increasingly scarce.
As for the artwork that could not be shipped, finished, or even begun due to the abrupt pause of the world's dynamics and production systems, a display dialogue is planned instead. For instance, Marguerite Humeau's work is represented by a guide describing the absent piece; a monumental sculpture of submerged body parts of a dying whale inspired by Latvian folklore and interrogating the hypothesis that climate change could be responsible for the rise of spirituality amongst animals.
Valdis Celms. Kinetic maquette Positron, 1976, illuminated object. Collection of the Zimmerli Art Museum at Rutgers University. New Brunswick, New Jersey, USA.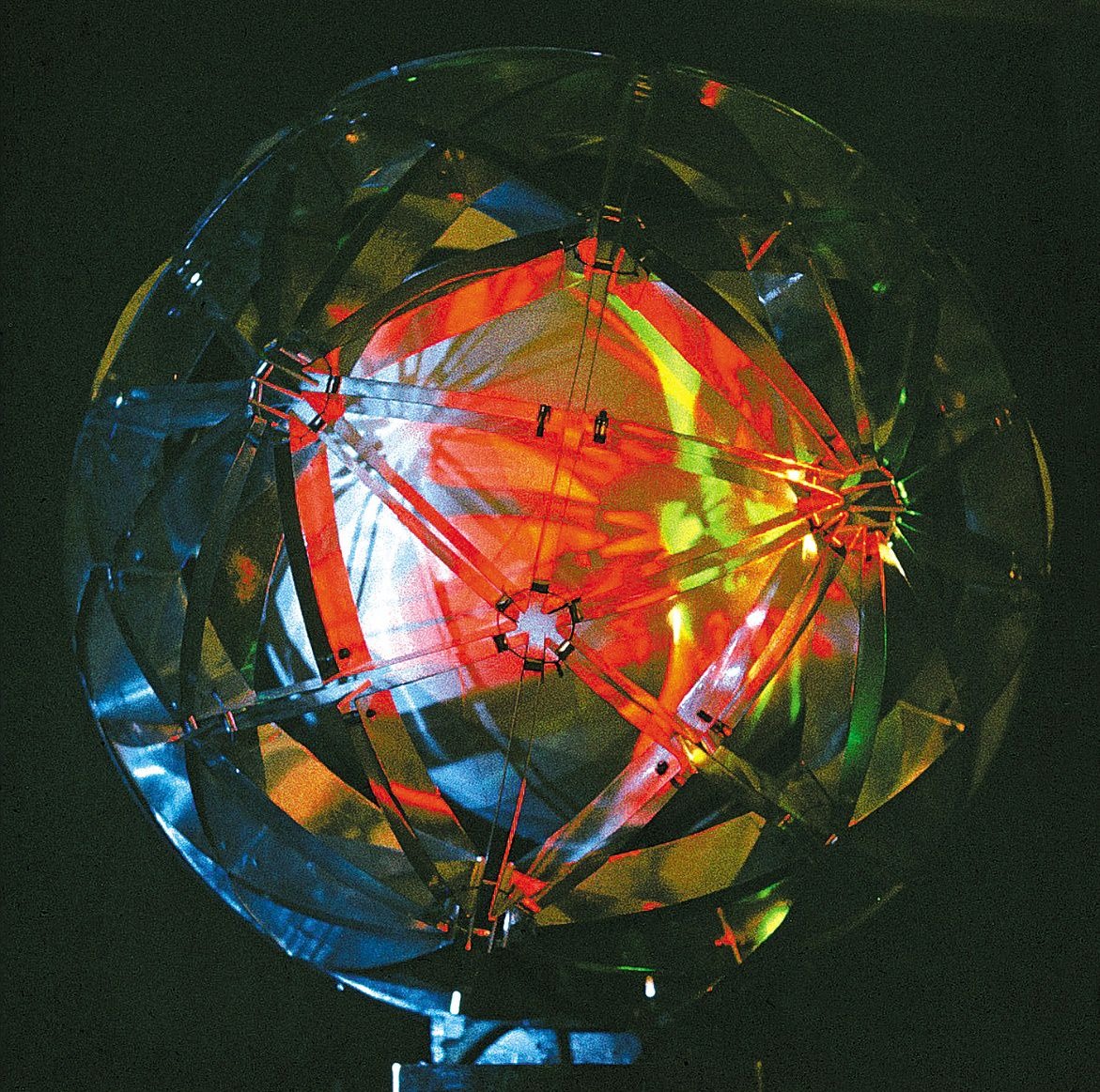 During the three-week exhibition run, performances (Bridget Polk, Dominika Olszowy, IevaKrish, Bendik Giske, Nina Beier and Dora Budor), artist talks (Lina Lapelyte, Marguerite Humeau, Valdis Celms, Oliver Beer, Tomas Saraceno, Emanuele Coccia, Jaanus Samma in conversation with Uku Lemper and Ineta Lipše, and a continuation of the Biennial's online series with Jack Halberstam, Avery Gordon, Vinciane Despret), guided tours and public programmes will be held while ensuring health and safety condition. A special RIBOCA2 family Sunday will be held on 23 August with a full day of activities and workshops for parents and children.
ANDREJSALA – BETWEEN RUIN AND RENOVATION
A partially abandoned peninsula, Andrejsala is somewhere between a ruin and a renovation site, mirroring the current state of the world. It stands as a metaphor for the ruptures of modern utopias, Soviet ideals and capitalist hopes, and resonates with our current challenges: to find ways of inhabiting the world in a new epoch while acknowledging these shared heritages. For RIBOCA2, Andrejsala opens like never before, granting public access to previously restricted areas through exhibition design realised in collaboration with the architects LLRRLLRR, Laura Linsi and Roland Reemaa. Imagined as a 4 – 5-hour wander, the exhibition's path has been envisioned as an encounter with other rhythms, a stroll through contemporary ruins, and an invitation to consider a new world growing out of them. Works are installed outdoors across the waterfront, in empty lots, meadows and wastelands, in a former paintball field and within indoor spaces ranging from a hangar to the main RIBOCA2 port building.
BEYOND THE EXHIBITION
An accompanying exhibition guidebook is designed by The Laboratory of Manuel Bürger / Collaboratoires MB. A full catalogue will be published in autumn 2020. The project will also include a feature length movie partly shot during the exhibition opening hours, transforming visitors into actors, to be released early 2021. Rebecca Lamarche-Vadel, as artistic director, script writer and co-director of the movie, has invited acclaimed Latvian film director Dāvis Sīmanis to co-direct the film. The exhibition expands in Riga through a collaboration with restaurants, offering culinary discovery across the city. Chefs have been invited to imagine the flavour of re-enchantment through vegetarian food, whilst maintaining their signature cooking principles and aesthetics.