What artists are doing now. Bulgarian artist Nedko Solakov in Sofia
An inspiration and mutual solidarity project for the creative industries
In the current situation, clearly our top priority is to take care of our families, friends and fellow citizens. Nevertheless, while public life is paralyzed and museums, galleries and cultural institutions are closed, in many of us neither the urge to work nor the creative spark have disappeared. In fact, quite the opposite is happening in what is turning out to be a time that befits self-reflection and the generation of new ideas for the future. Although we are at home and self-isolating, we all – artists, creatives and Arterritory.com – continue to work, think and feel. As a sort of gesture of inspiration and 'remote' mutual solidarity, we have launched the project titled What Artists Are Doing Now, with the aim of showing and affirming that neither life nor creative energy are coming to a stop during this crisis. We have invited artists from all over the world to send us a short video or photo story illustrating what they are doing, what they are thinking, and how they are feeling during this time of crisis and self-isolation. All artist stories will be published on Arterritory.com and on our Instagram and Facebook accounts. We at Arterritory.com are convinced that creativity and positive emotions are good for the immune system and just might help us better navigate through these difficult times.
From his home in Sofia, Bulgarian artist Nedko Solakov answers a short questionnaire by Arterritory.com:
Are you working on any projects right now in your studio? If so, could you briefly describe them?
I left my Sofia studios 26 days ago because we – the citizens of Bulgaria – must stay at home, unless one has to go to work in a not-yet-closed business. Of course, I can go every day to my studios, but when I imagine the disinfection procedures entering our home again, I would rather stay home.
Of course, I work at home too, making a drawing a day (already 26 on my table); I call the series Useless Drawings. For many people, working remotely and staying in one place is a total disaster. But we, as artists, have finally come to some advantage in comparison with 'ordinary' citizens. All of our lives, basically, we work alone. Well, there are colleagues who used to employ many, many assistants, but I am not one of them. Even though for some previous projects of mine there were almost a hundred people involved in the productions, I prefer to work alone in my studio. I can't stand other people in it.
With my wife, we are collecting too. Mainly drawings and collages, either swapping with fellow artists or my gallerists, or buying at auctions and galleries. So, over the last days I've also been organizing the collection, at least that part which is on our walls at home (Karin Sander, Paul McCarthy, Lawrence Wiener, the Kabakovs, Erwin Wurm, Roman Ondak, Marc Dion, Emily Jacir, Nam June Paik, Raymond Pettibon, Yoshitomo Nara, Gelitin, and Thomas Hirschhorn, to name a few from our almost 200 artists).
Of course, there are several group shows ahead, but this is so far away that I am not sure that they will happen at all. On February 22 I opened a huge show at Galleria Continua, San Gimignano, called The Artist-Collector's Dream (a nice thing), involving works from 19 other artists (we own pieces from 16 of them). The show was closed a couple of days later. Hopefully, it will reopen soon. Here is a video dedicated to it.
During February, my performance A Life (Black & White), at Tate Modern, was reactivated and they planned to perform it again during the 20 Years Tate Modern celebrations in May. Hopefully, the event will happen. You may see 'my' TateShots video here.
What is your recipe for survival in a time of almost only bad news?
All my life as an artist, whenever I had a problem or the world around me had a problem, I have always dealt with that problem by just placing it in my works. Nothing new, I know, but it works. We are kind of lucky because of what we do; we can transform the bad news into something positive. The very fact that you are dealing with bad news in a 'creative' way is positive. As for the financial part of the bad news, again, we as artists have more experience in it. How many 'ordinary' citizens would have the 'luxury' to work day after day, to produce products and NOT get paid for it? Almost none. And we, as lucky-for-the-fourth-time-in-this-interview artists, are quite used to it. Even though I can't complain right now about sales (I and my family have been living from sales since 1980), I know that the worst is yet to come. But I remember at least two other periods when it was pretty tough, and we survived. In general, I am telling stories in space. Sometime the space is just a sheet of paper, sometimes the spaces are enormous. Most of my stories could trigger a smile, although they are quite sad at the same time. Sad in an optimistic way, I mean. Hopefully there still will be non-bankrupt people who would like to have them.
What is something that we all (each of us, personally) could do to make the world a better place when this disaster comes to an end? It is clear that the world will no longer be the same again, but at the same time...there is a kind of magic in every new beginning.
First, we have to survive – this is the most important thing. And if we, the artists, will still love the people around us, then we will find a way to comfort them with what we do – showing them the world in a more acceptable way.
The art world and the culture sector is one of the most affected. What is the main lesson the art world should learn from all this? How do you imagine the post-apocalyptic art scene?
There was a lot of greed in the art world before. An extremely speedy greed. This will slow down, for sure. I personally stopped flying in the autumn of 2008. Before that I used to fly a lot, really a lot, but I always took pills for my anxiety about flying. So for the last 12 years, we, my wife and I, have driven everywhere within Europe (I was the one behind the wheel). From Sofia to Porto, to Denmark, to Riga, to Istanbul, constantly crossing the map of Europe. And if a work was supposed to be done outside of Europe, then we either took a train (two weeks to Shanghai), or I would instruct assistants in Kathmandu, Lahore, Sydney, Singapore, etc. (to name a few biennials) on how to create a Solakov from long distance via Skype. As long as an artist is honest with what she/he is doing, as long that artist thinks about the people who may enter his/her world, there is a light ahead.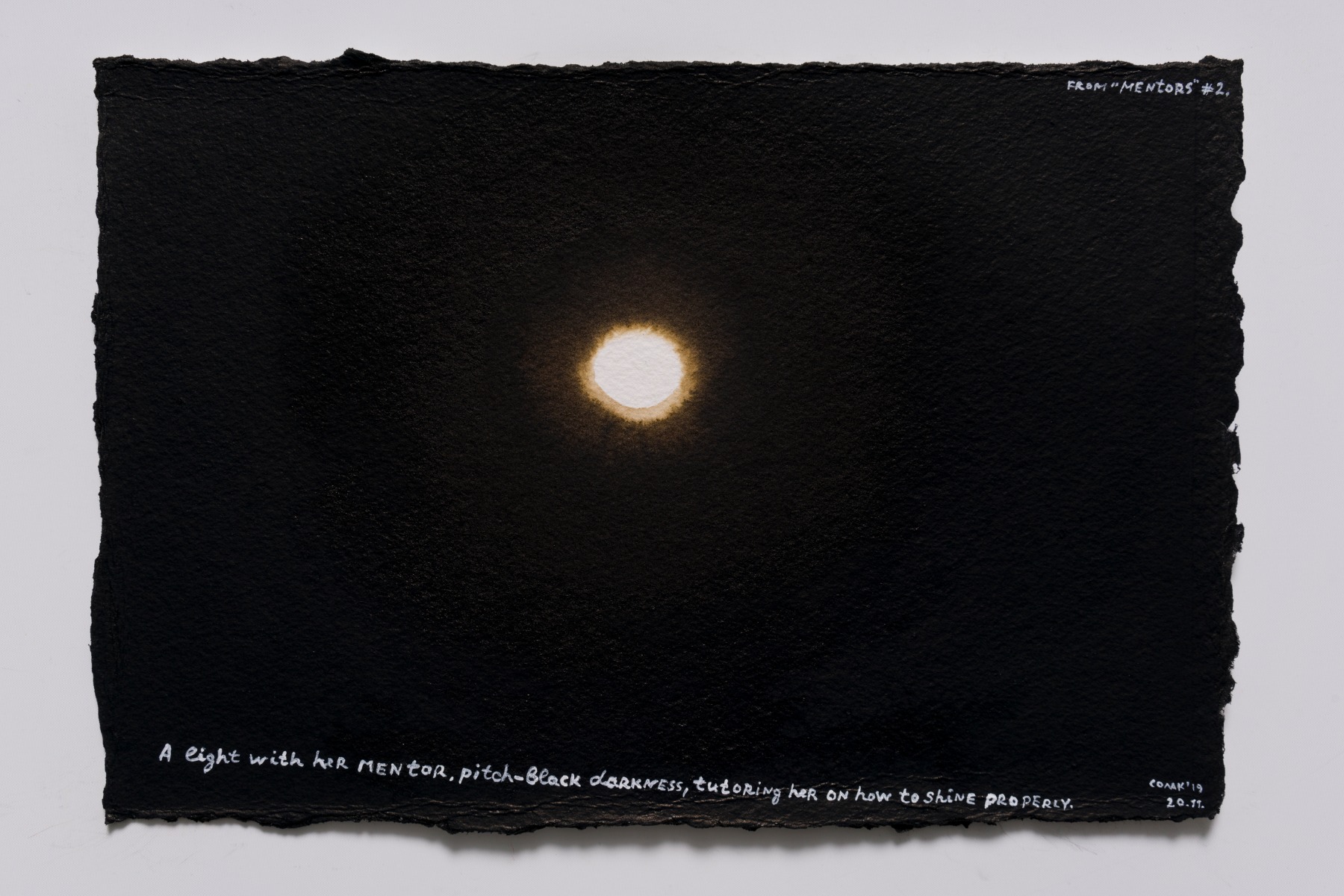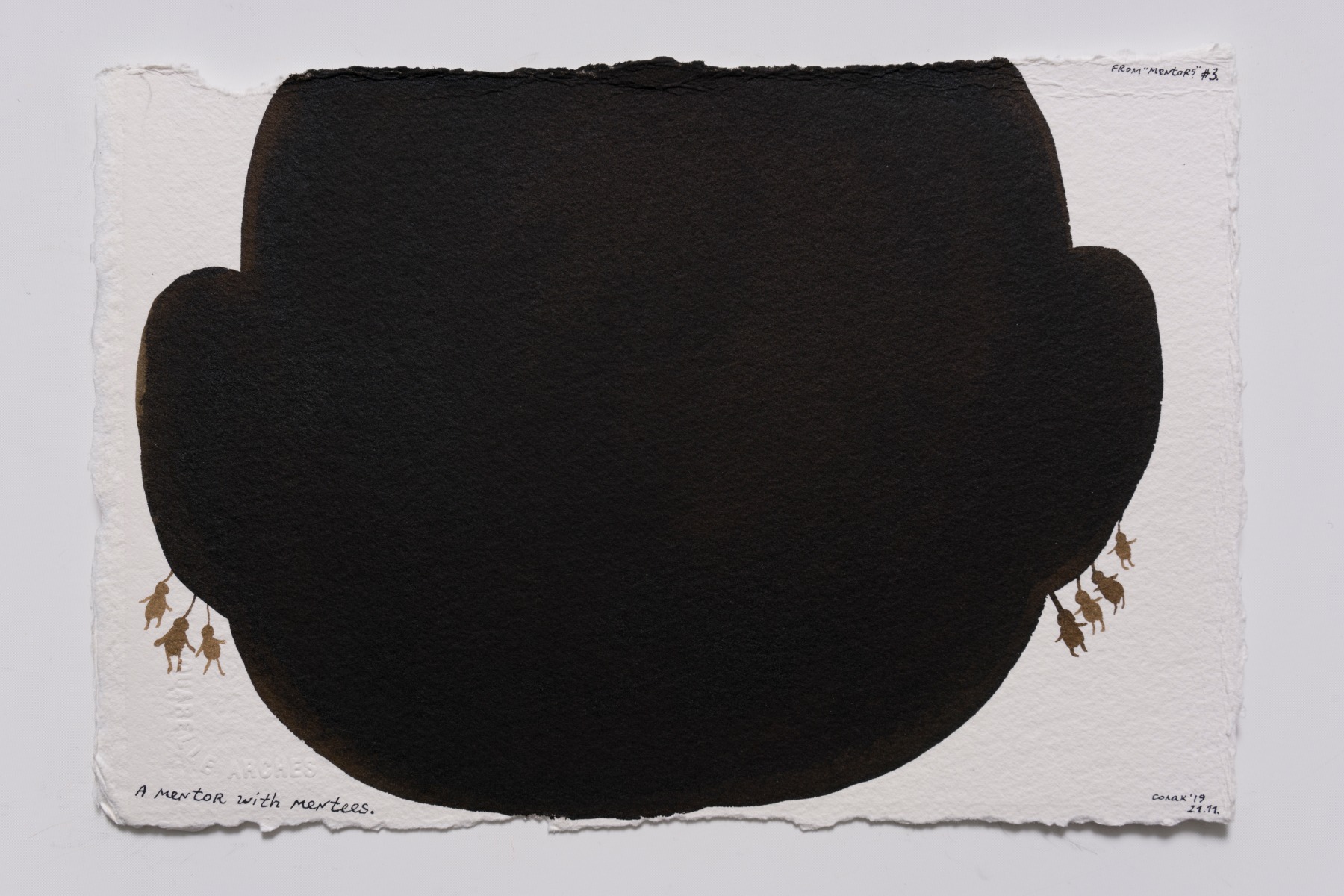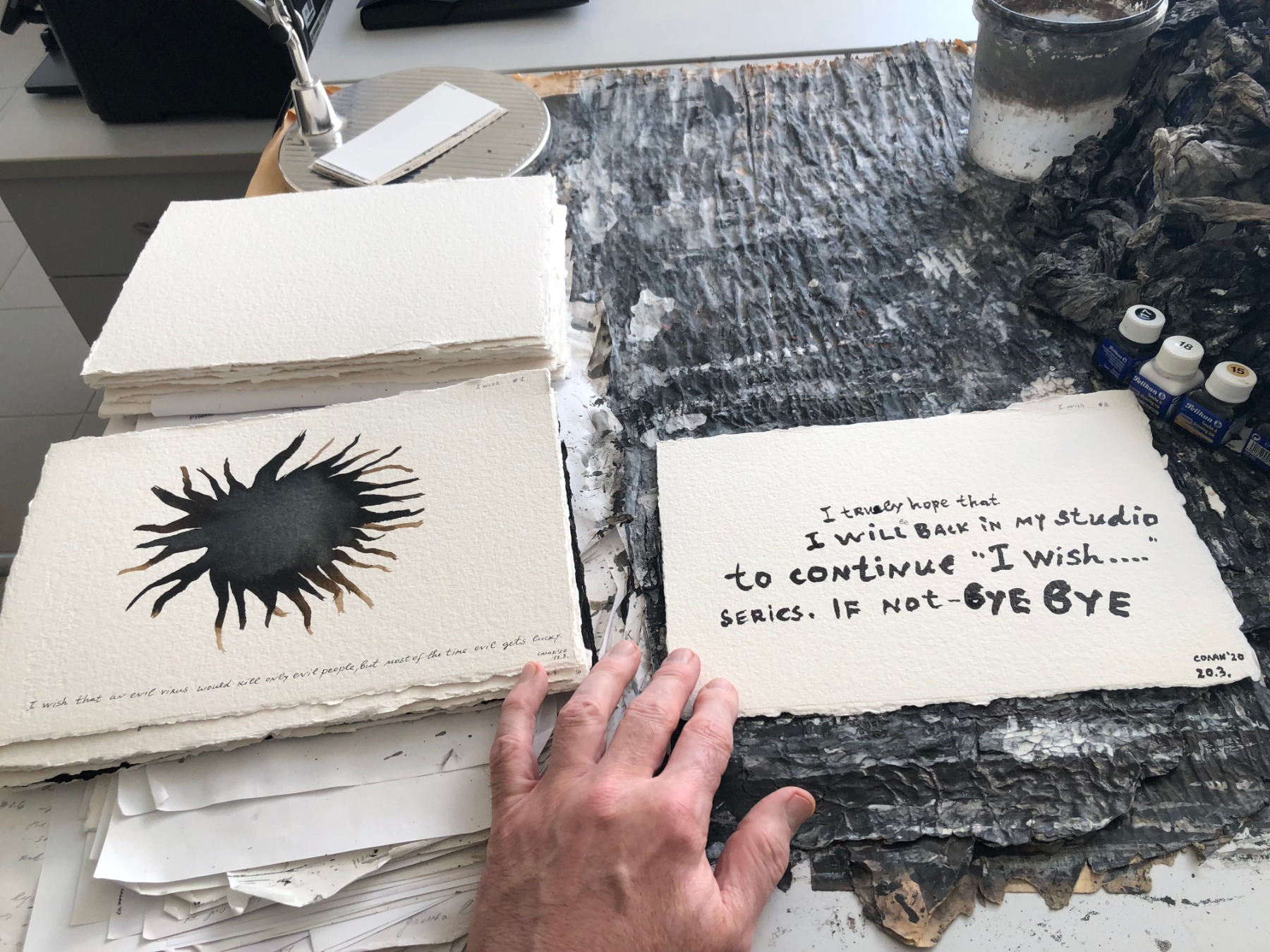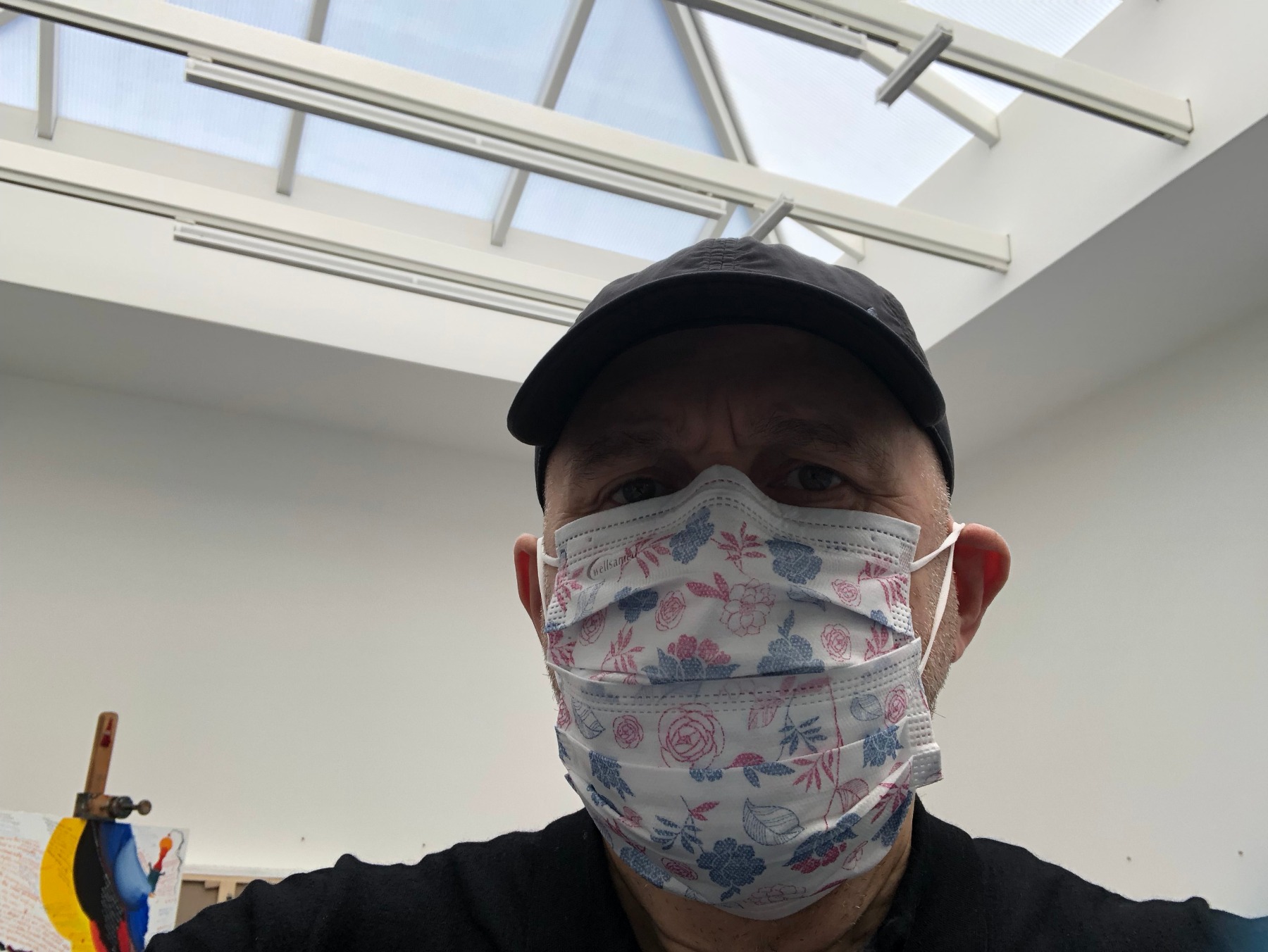 ***
Since the early 1990s, Nedko Solakov (b. 1957, Tcherven Briag, Bulgaria; lives in Sofia) has exhibited extensively in Europe and the US. His work was featured in Aperto'93 (Venice Biennial); the 48th, 49th, 50th and 52nd Venice Biennial; the 3rd, 4th and 9th Istanbul Biennial; São Paulo'94; Manifesta 1, Rotterdam; the 2nd and 4th Gwangju Biennial; the 5th Lyon Biennial, Sonsbeek 9, Arnhem, the 4th and 5th Cetinje Biennial, the 1st Lodz Biennial; the 7th Sharjah Biennial, United Arab Emirates; the 3rd Tirana Biennial; the 2nd Seville Biennial; the 2nd Moscow Biennial; documenta 12; 16th Sydney Biennial; Prospect 1, New Orleans Biennial, Singapore Biennial 2011, dOCUMENTA (13), Kathmandu Triennale, 1st Riga International Biennial for Contemporary Art and Lahore Biennale 2. He had solo shows at Museu do Chiado, Lisbon; Stichting De Appel, Amsterdam; CCA Kitakyushu, Japan; Museo Nacional Centro de Arte Reina Sofía, Madrid; The Israel Museum, Jerusalem; Centre d'Art Santa Monica, Barcelona; Kunsthaus Zurich; Castello di Rivoli, Rivoli; Sofia City Art Gallery; Galleria Borghese, Rome; Salzburger Kunstverein, Salzburg; BOZAR, Brussels; ICA Sofia and La Panacee, Montpellier. In 2003-2005 an extensive mid-career "A 12 1/3 (and even more) Year Survey" was presented at Casino Luxembourg, Rooseum Malmoe and O.K Centrum Linz, and in 2008-2009 the "Emotions" solo project was exhibited at Kunstmuseum Bonn, Kunstmuseum St. Gallen, and Institut Mathildenhoehe, Darmstadt. In 2011-2012 his retrospective "All in Order, with Exceptions" was presented at Ikon Gallery, Birmingham; Fondazione Galleria Civica Trento ("All in (My) Order, with Exceptions"), S.M.A.K., Ghent and Fundação de Serralves, Porto. His works belong to more than fifty international museums and public collections, among them MoMA New York, Tate Modern, London and Center Pompidou, Paris.