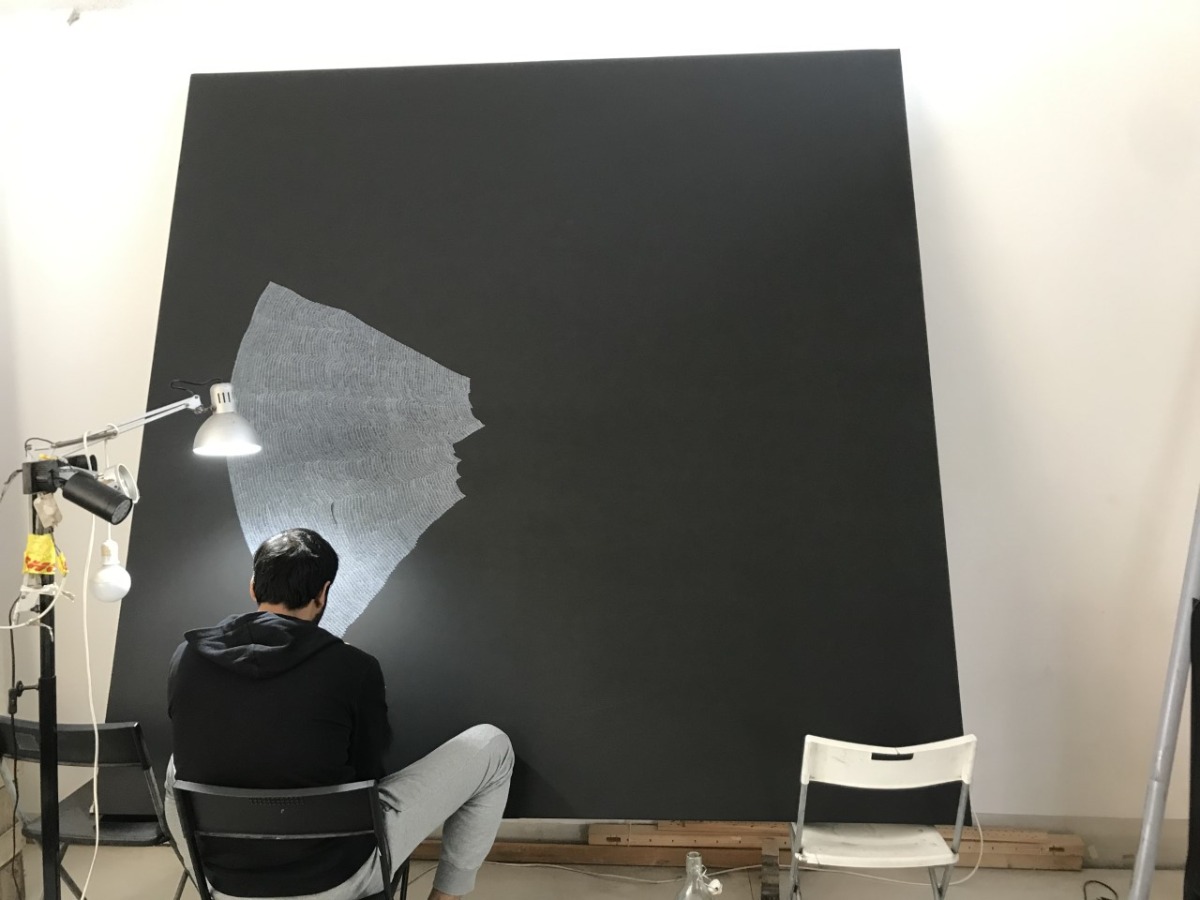 What artists are doing now. Pakistani artist Waqas Khan in Lahore
An inspiration and mutual solidarity project for the creative industries
In the current situation, clearly our top priority is to take care of our families, friends and fellow citizens. Nevertheless, while public life is paralyzed and museums, galleries and cultural institutions are closed, in many of us neither the urge to work nor the creative spark have disappeared. In fact, quite the opposite is happening in what is turning out to be a time that befits self-reflection and the generation of new ideas for the future. Although we are at home and self-isolating, we all – artists, creatives and Arterritory.com – continue to work, think and feel. As a sort of gesture of inspiration and 'remote' mutual solidarity, we have launched the project titled What Artists Are Doing Now, with the aim of showing and affirming that neither life nor creative energy are coming to a stop during this crisis. We have invited artists from all over the world to send us a short video or photo story illustrating what they are doing, what they are thinking, and how they are feeling during this time of crisis and self-isolation. All artist stories will be published on Arterritory.com and on our Instagram and Facebook accounts. We at Arterritory.com are convinced that creativity and positive emotions are good for the immune system and just might help us better navigate through these difficult times.
From his home studio in Lahore, Pakistani artist Waqas Khan answers a short questionnaire by Arterritory.com:
Are you working on any projects right now in your studio? If so, could you briefly describe them?
I am currently preparing for an upcoming project in my home studio. Though customized to be a commissioned project, my upcoming work aims to tantalize the aesthetic nerve of the masses. For me, the outreach of the Art to the public is more important than its baroque nature. I'm blessed to be able to work in the sanctity of my home studio surrounded by lush trees, singing birds, and my family. I grew up in a rural setting, thus closeness to Nature gives me both inspiration and strength.
In parallel, I am supporting a social initiative to battle the recent food insecurity caused by the recent pandemic. In Pakistan more than 1000 people have been infected with COVID-19. For a country that ranks 107 on the Global Hunger Index, a month-long lockdown has affected a huge number of households. The current social fabric is more fragile when it comes to the mutual aid and support needed to sustain over the long haul. While the 'economically comfortable' safely sit at home with their stocks of food, daily-wage workers and small-scale farmers have been going to bed hungry. I am working with my friends to create awareness and to provide food solutions for the affected both in my village and the major cities of Pakistan.
The world has been experiencing moments of unity that we had never imagined.
What is your recipe for survival in a time of almost only bad news?
For me, Art is the coping mechanism. Crises like the recent COVID-19 pandemic make a society understand the realities underlying artistic expression. For example, the celebrated 'balcony singers' of Italy make the world realize how Art has been acting as an agent of communal solidarity during times of social remoteness. The bitter truth is that these tough times cannot be sugar-coated, however, instead of dwelling upon an enigma and focusing on the conflict in society, I tend to look at the positive side of human existence. The tools that make social connection and diversion easier can also make people feel more disconnected and alienated. It is spot-on that the daily dose of bad news and fear of uncertainty can easily make one frustrated, aggressive and depressed to an extent, but I focus more on the feeling of togetherness that isolation has generated. I believe that the smallest act of kindness can bring joy to the social order. The world has been experiencing moments of unity that we had never imagined. Suddenly, I have been spending more time with family – doing long virtual conversations with my mother and friends, and I make sure to check up on the relations I have back home (in the village).
An amazing aspect of these times is that Mother Nature has been going back to its original form; I am able to view stars from my balcony in Lahore.
What is something that we all (each of us, personally) could do to make the world a better place when this disaster comes to an end? It is clear that the world will no longer be the same again, but at the same time...there is a kind of magic in every new beginning.
An amazing aspect of these times is that Mother Nature has been going back to its original form; I am able to view stars from my balcony in Lahore; I wake up to the songs of birds in my garden and I see my children breathing better in a city that had been ascending the ranks of bad air quality. All these happenings are both jubilant and magical! I think society needs to register this and collectively work towards retaining the harmony of Nature. As an individual, we should slow down, breathe, and focus on the present: 'What am I feeling right now?' and 'How are my actions going to affect society?' are the questions that should be going on in an individual's mind.
I will confess that if I didn't have the canvas, I would have gone crazy!
The art world and the culture sector is one of the most affected. What is the main lesson the art world should learn from all this? How do you imagine the post-apocalyptic art scene?
It is easy to predict that the Global Art market will suffer massively. While Art brings sanity to life, the artists have been going through a menacing era.
I live in a country where the fulfillment of basic needs seems more pressing for a person than appreciating Art. Here, Art is not valued as a preferred career choice. Our local artists have been combating this societal concern; the recent economic crisis has pushed them into a bigger whirlpool. Being an artist myself, my level of sensitivity has hiked up; I keep thinking, 'What can I do for the local artist?', 'How I can help them continue getting work?', 'What I can offer them as a fellow artist to deal with the emotional stress?'
I will confess that if I didn't have the canvas, I would have gone crazy! To fight this feeling of disempowerment, it is important to maintain social connections. We need to support each other for the long haul through a period of seclusion while maintaining a sense of common purpose. For that, we need art's resources of social connection to keep us together as we are physically apart.
I am happy to mention that I have observed a shift from consumerism to connection in the Art World. Virtual hubs have been playing a great role in this regard. Social media has become the main gateway for enhancing an interest in the Arts. We all have our inboxes and news feeds full of invitations to digital viewing rooms. Though these mediated spaces are not a sustainable solution for artists since leaving your everyday space and going somewhere special is part of the point of that kind of experience, digital mediums can equip them better to reach out to their audiences. People have started valuing 'shared meanings' through such art experiences. I am hopeful that in the post-apocalyptic art scene, digital repositories will aid in documenting, preserving and promoting artworks while increasing accessibility to the remote parts of society.
***
Waqas Khan is a Pakistani artist, that lives and works in Lahore, Pakistan. Born in Akhtarabad, Pakistan, in 1982.
Waqas Khan's large scale minimalist drawings resemble webs and celestial expanses. The contemplation leaving a visible evidence on paper is the crux of the work.
Khan employs small dashes and minuscule dots to create large entanglements. Where when two particle-sque units are spread out and entangled, they are essentially 'in sync' with each other, and they'll stay in sync no matter how far apart they are. This idea of togetherness and being seen one as a magnanimous totality is what he partly absorbs from his inclination towards literature and interest in the lives of sufi poets. Khan's work also evoke a sense of scripting, which he likes to see as a discourse between him and his viewer, a dialogue which is very much formatted over the syntax of a monologue.
Graduated as a printmaker, Waqas envisage through his work a view of an autonomous entity and identity, analogous to and following the same developmental patterns as some biological organism.
His most recent group shows include Doublethink:doublevision, curated by Allistair Hicks, Tania Bahar and Begum Akkoyunlu at Pera Museum in Istanbul (Turkey); Decor, curated by Tino Sehgal, Dorothea von Hantelmann and Asad Raza at the Fondation Boghossian - Villa Empain, in Brussels (Belgium); Between Structure and Matter: Other Minimal Futures curated by Murtaza Vali at Aicon Gallery, New York (USA); Dhaka Art Summit curated by Diana Campbell-Bethancourt in Dhaka (Bangladesh), and Nada temas, dice ella curated by Rosa Martínez at the Museo Nacional de Escultura in Valladolid (Spain). In 2013 he was shortlisted for the prestigious Jameel Art Prize at the V&A.
Waqas Khan's works are part of prestigious public collections such as the The British Museum and the Victoria and Albert Museum, in London (UK); the Deutsche Bank Collection, Frankfurt (Germany); the Kiran Nadar Museum of Art and the Devi Foudation, both in New Delhi (India).
Title image - Waqas Khan at his studio. Courtesy of the artist and Sabrina Amrani