What artists are doing now. Korean artist Jong Oh in New York
An inspiration and mutual solidarity project for the creative industries
In the current situation, clearly our top priority is to take care of our families, friends and fellow citizens. Nevertheless, while public life is paralyzed and museums, galleries and cultural institutions are closed, in many of us neither the urge to work nor the creative spark have disappeared. In fact, quite the opposite is happening in what is turning out to be a time that befits self-reflection and the generation of new ideas for the future. Although we are at home and self-isolating, we all – artists, creatives and Arterritory.com – continue to work, think and feel. As a sort of gesture of inspiration and 'remote' mutual solidarity, we have launched the project titled What Artists Are Doing Now, with the aim of showing and affirming that neither life nor creative energy are coming to a stop during this crisis. We have invited artists from all over the world to send us a short video or photo story illustrating what they are doing, what they are thinking, and how they are feeling during this time of crisis and self-isolation. All artist stories will be published on Arterritory.com and on our Instagram and Facebook accounts. We at Arterritory.com are convinced that creativity and positive emotions are good for the immune system and just might help us better navigate through these difficult times.
From his home in New York, Korean artist Jong Oh answers a short questionnaire by Arterritory.com:
Are you working on any projects right now in your studio? If so, could you briefly describe them?
Since I mostly create my work in situ, and most of my projects have been postponed to later this year or early next year, I decided to use this 'period of blank' as an opportunity to do personal homework I've put off. Organizing all my unused ideas, sketches and small notes that I have been collecting for many years is the priority work. Mastering TIG (tungsten inert gas) welding is also an important goal. It is the only method to weld steel rods that are thinner than 1mm, and this technique will help me expand new forms and structures in my work. I am also reading a variety of books: from novels like Personal Matter by Oe Kenzaburo to science books like A Brief History of Time by Stephen Hawking.
What is your recipe for survival in a time of almost only bad news?
Caring for others and getting care from others is the most essential. How would anybody survive without warm hearts? I try to help neighbors and contact my family and friends around the world to check if they are doing well. Besides that, I started to grow plants and practice yoga. This was something difficult for me to do since I've been living a nomadic life. The tragic situation gave me a chance to pause my wanderlust, rent a room, get some plants and a yoga mat.
What is something that we all (each of us, personally) could do to make the world a better place when this disaster comes to an end? It is clear that the world will no longer be the same again, but at the same time...there is a kind of magic in every new beginning.
We have lost so many lives and the economic downturn was huge in such a short time, so that everything we've done feels futile. I think we need to take this chance to really think about the real value in life. I hope people bond together and create less hatred. It's quite simple to make the world a better place and everybody knows it. You just need to be less selfish. It's ok to have a little less. If we would all think this way, the world would be so much better. I believe that altruism is the only way to overcome hardships.
The art world and the culture sector is one of the most affected. What is the main lesson the art world should learn from all this? How do you imagine the post-apocalyptic art scene?
We all witnessed how vulnerable the art world and the culture sector is in this kind of extreme situation. We are the first to be hit and the last to recover. It instantly threatened the livelihood of many artists and galleries. It is amazing how galleries and museums quickly created beautiful web VR exhibitions as an alternative. The growing online art market is definitely helpful. But still, the art world is based on the tangible world. People need to experience it in person.
The most ideal situation is to be well prepared for such pandemics, which happen periodically, so that we could continue our everyday life. If governments acted faster, had a better health care system, had enough masks, had better technology for tracking the route of infection, if people had a mature sense of citizenship, etc., we probably wouldn't have had to close the borders, lock everybody down and panic for months. I'm sure we will learn and handle the crisis better next time, but for now, we just have to continue to care for each other and stay strong.
Warmest wishes to everyone in the world!
Courtesy of the artist and Sabrina Amrani
Jong Oh Studio / Courtesy of the artist and Sabrina Amrani
Jong Oh Studio / Courtesy of the artist and Sabrina Amrani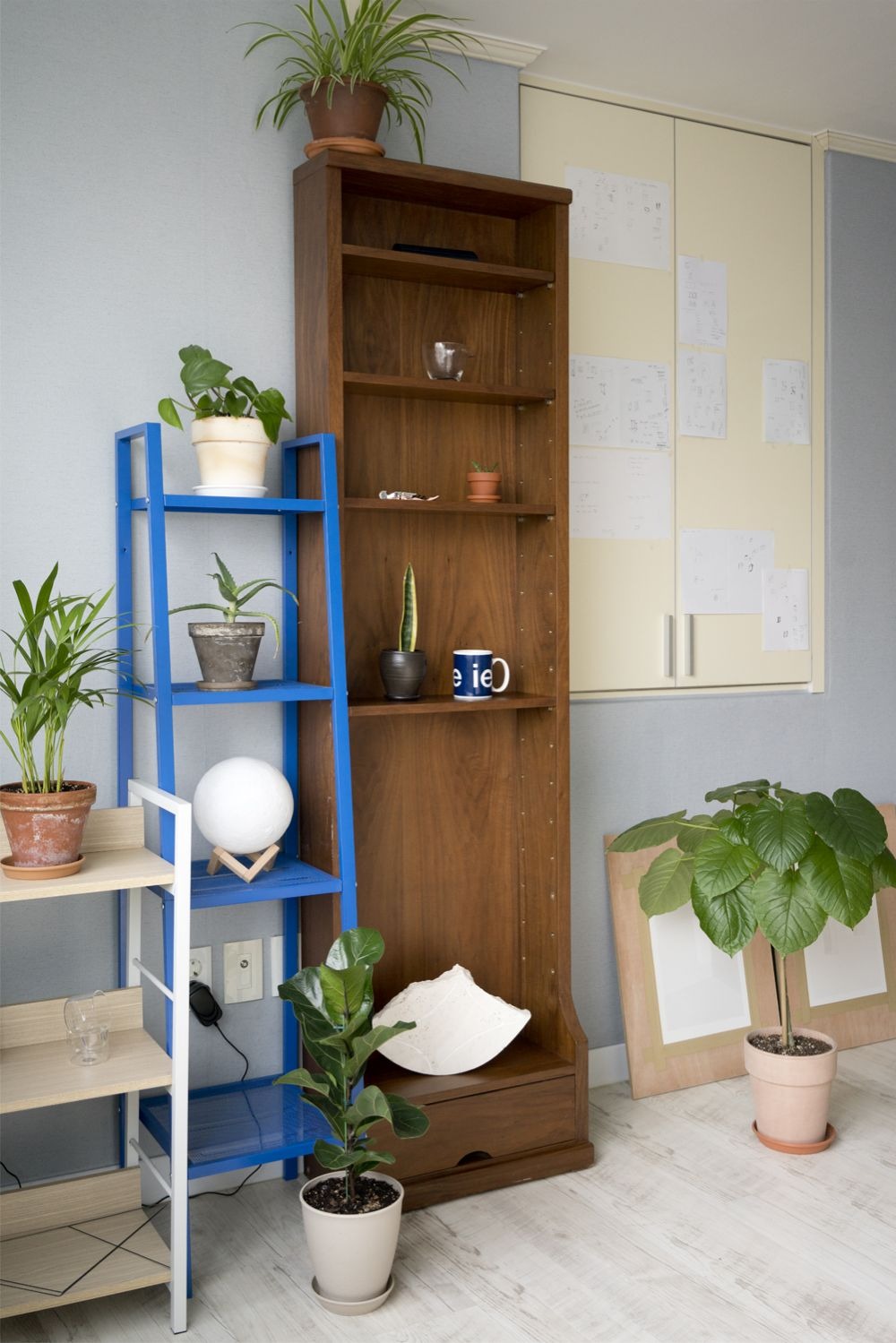 Jong Oh Studio / Courtesy of the artist and Sabrina Amrani
Jong Oh Studio / Courtesy of the artist and Sabrina Amrani
Jong Oh Studio / Courtesy of the artist and Sabrina Amrani
Jong Oh Studio / Courtesy of the artist and Sabrina Amrani
***
Korean artist Jong Oh was born in Mauritania in 1981 and grew up between Spain and South Korea. He currently lives and works in New York, where he graduated in a MFA at the School of Visual Arts after earning his BFA at the Hongik University in Seoul.
Jong Oh's artistic practice is quite particular since he does not use a studio but creates minimal sculptures in situ that respond to a given spatial situation. Responding to the nuanced configuration of each site, the artist constructs spatial structures by suspending and interconnecting a limited selection of materials: rope, chains, fishing wire, perspex, wooden and metal rods and painted threads. The elements of the work seem to float, and depending on the spatial relationship of the viewer with it these elements are connected and cross each other or appear as absolutely independent, suggesting additional dimensions to the simple three-dimensional space. Sometimes the threads that suspend these elements are practically invisible and sometimes the artist paints the thread lightly, reinforcing the visual presence of the element. Jong also uses lighting to create his compositions, where real shadows or painted lines by the artist in graphite extend his ethereal structures and favor the effect of optical illusion in a dialogue of lines and planes. His practice defies the traditionally expected assumption in sculpture of dense masses and heavy objects, acting like simple yet complex drawings that point out the particularities of the space they inhabit. In these paradoxical limits constituted by three-dimensionality and two-dimensionality, consummation and destruction, the spectator's experience becomes a meditation on the whim of human perception. Jong's work is interactive in the sense that the perception and apprehension of each piece by the viewer is achieved only through a deep exploration of it and the negative space resulting from the intervention of the artist.
Oh appeals to the viewer to question their own perception and the way they have to relate to the space that surrounds them, offering a space for meditation and contemplation before the hustle and bustle of contemporary everyday life: a subtle and refined visual haiku about universality and the sound of space.
Jong Oh has exhibited extensively in the U.S., Korea, Mexico and in Europe. His work belongs to public collections such as the Maxine & Stuart Frankel Foundation in Michigan (US) and the Kablanc Otazu Foundation in Navarra (Spain).