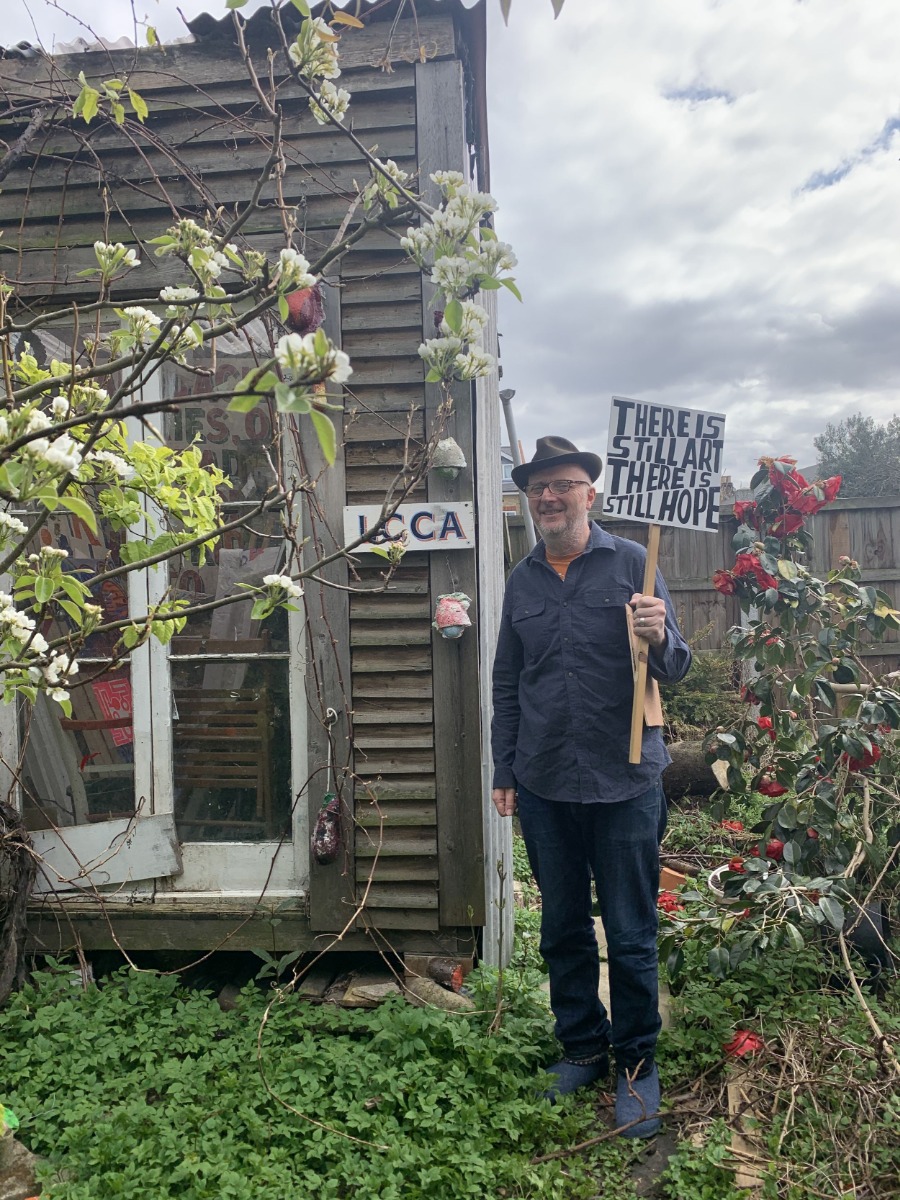 What artists are doing now. Bob and Roberta Smith in London
An inspiration and mutual solidarity project for the creative industries
In the current situation, clearly our top priority is to take care of our families, friends and fellow citizens. Nevertheless, while public life is paralyzed and museums, galleries and cultural institutions are closed, in many of us, neither the urge to work nor the creative spark have disappeared. In fact, quite the opposite is happening, in what is turning out to be a time that befits self-reflection and the generation of new ideas for the future. Although we are at home and self-isolating, we all – artists, creatives and Arterritory.com – continue to work, think and feel. As a sort of gesture of inspiration and 'remote' mutual solidarity, we have launched a project titled 'What Artists Are Doing Now', with the aim of showing and affirming that neither life nor creative energy are coming to a stop during this crisis. We have invited artists from all over the world to send us a short video or photo story illustrating what they are doing, what they are thinking, and how they are feeling during this time of crisis and self-isolation. All artist stories will be published on Arterritory.com and on our Instagram and Facebook accounts. We at Arterritory.com are convinced that creativity and positive emotions are good for the immune system and just might help us better navigate through these difficult times.
From his studio in London, British artist Bob and Roberta Smith answers a short questionnaire by Arterritory.com:
Are you working on any projects right now in your studio? If so, could you briefly describe them?
How do you reach out when you can't reach out?
I am working on three large public art projects and on some smaller diaristic paintings, Twitter and Instagram posts.
I work in a studio I built in my garden. It's really a large garden shed, but it's called the Leytonstone Center for Contemporary Art. My wife, the artist Jessica Voorsanger, and I used to curate exhibitions at the Leytonstone Center for Contemporary art. These days I have taken it over as a work space. It has wonderful light and some limited space to paint. It does leak, so when it rains I work indoors in a large room at the top of our house. My main studio is in Ramsgate, on the coast, but I have let an artist friend use that space. It is a bit frustrating not being in Ramsgate, which is a beautiful seaside town, but the area only has one small hospital, so we are self-isolating in London so as not to put more strain on the National Health Service if we get sick.
I am making drawings for public projects at Petworth House and Chatham Dock Yard, and working on continuing a project at the 1970s Thamesmead housing estate. I have been conducting interviews with residents and transcribing them onto canvas. The work is turning into a meditation on the up sides and down sides of modernism. Thamesmead is a kind of architectural dream. It is beautiful to look at but tough to live in, partly because of ideas about planning when it was conceived and partly because of the economy. The project is a collaboration between Tate Modern and the Peabody Housing Cooperative. We are hoping to invite residents to continue the project over Zoom during the COVID-19 outbreak. I think this is exciting and innovative.
It's tough for everyone at the moment, and I hope that by conducting these conversations and then transcribing them onto paintings, it will be a kind of communication and dialogue; admittedly not with a large number of people, but at least a gesture of reaching out when we can't reach out.
What is your recipe for survival in a time of almost only bad news?
Art is a human right. I like the story about Eva Hesse who played piano in the National Gallery during World War Two. She was a great figure of the Resistance, but also of how things would return after the war ended.
I wrote a book last year called You Are an Artist, which will be published with Thames and Hudson this summer (COVID-19 permitting). The concept of the book is to suggest ideas and approaches to making art that anyone could do. It's a little like a cookery book.
I believe very firmly that Art is a human right; that Art is not something made only by a group of people who call themselves artists. I think all artists want to push back against the preciousness of the art world, and asking people to 'make their own damn art' has been my way of tackling this issue. Every day I have been posting 'art' things to do on my Twitter feed and on Instagram. It has been great fun and has had some very interesting responses. It has been a great dialogue. Today I simply posted a pink canvas and people have been drawing on it.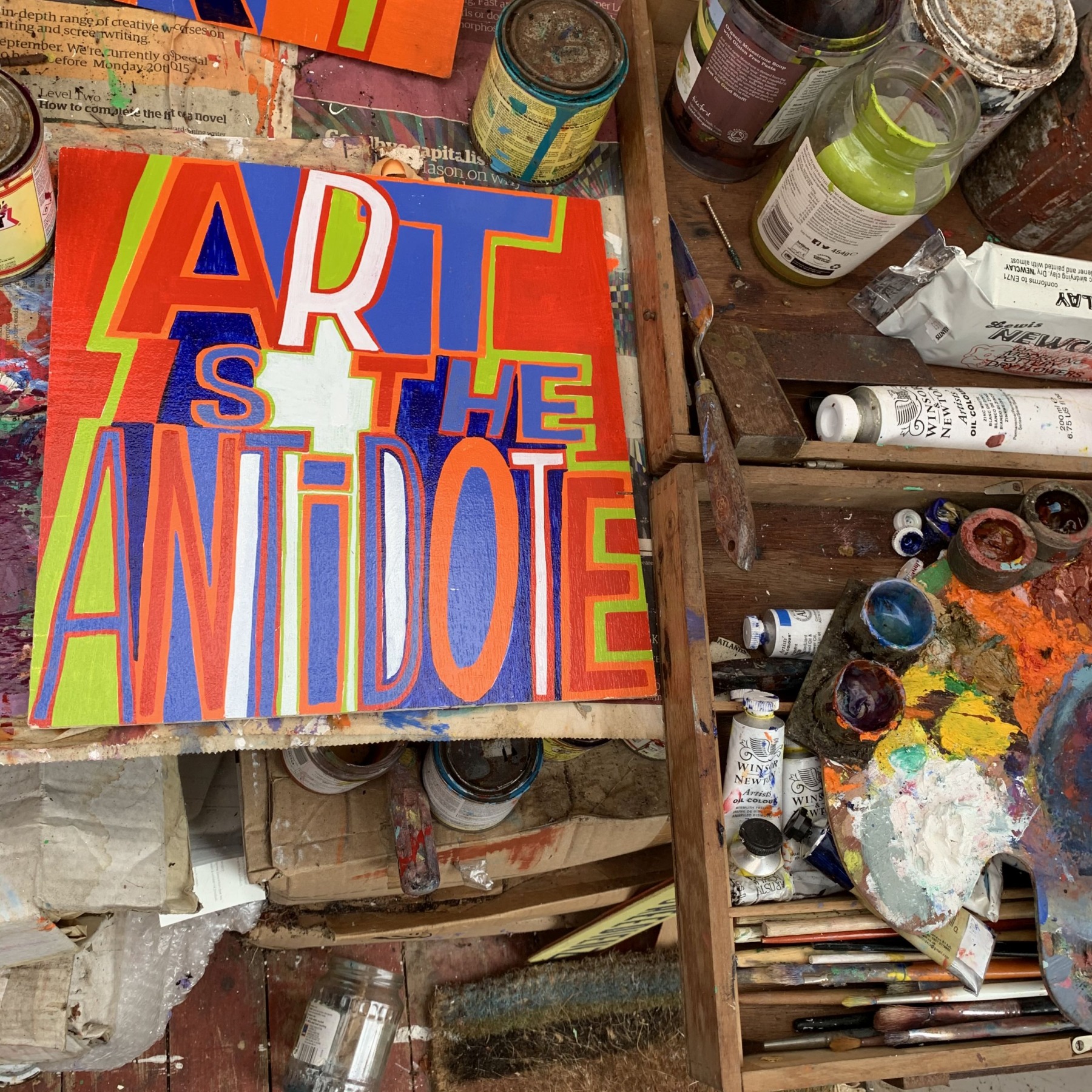 What is something that we all (each of us, personally) could do to make the world a better place when this disaster comes to an end? It is clear that the world will no longer be the same again, but at the same time...there is a kind of magic in every new beginning.
Artists are key workers.
Artists, writers, poets, composers and musicians have a responsibility to keep working, to keep looking. We can see our parliaments closing and our democracies shrinking, but creative people still need to look. All artists are key workers. We have a responsibly to our health workers, corner shops, postal workers, and people who do deliveries – to keep asking questions and keep having fun. My hero, Hannah Arendt, said that democracy was threatened if human beings don't participate, associate and perform. It is the artists' job to show how to perform those functions in these difficult times.
The art world and the culture sector are some of the most deeply affected. What is the main lesson the art world should learn from all this? How do you imagine the post-apocalyptic art scene?
We need culture now like we have never needed it before.
I was a little ashamed on the first Monday of the lockdown, when it seemed that every museum on the planet was sending out emails telling us they were closing due to COVID-19. Our broadcasters can't close down! Our newspapers can't close down! We need culture now like we have never needed it before. Each organisation and museum should have said: We are open! We continue, but in different ways!
This is now what is happening. The landscape is shifting. New voices are emerging and new ways of working are appearing. I am actually quite excited.
I am worried for people affected by COVID-19 and for many younger artists like my students who have no money, no studio, and no workshops.
But the world will change. We are seeing which institutions are nimble and innovative and those who are not. We are seeing new voices looking at the situation and thinking, 'Ah, I see we have to work like this now'. The Cass Art School at London Metropolitan University, where I teach a few days a week, is still open. I talk to my students each week. Each week, the ones who have managed to make something have a smile on their faces, while the ones who did not don't look so happy.
Making art is like preparing for a big party; it's all about organising, drawing and putting things together while thinking about the future. Paul Klee said art was the 'life force', and so it is. Make art, folks! We will get through this with art.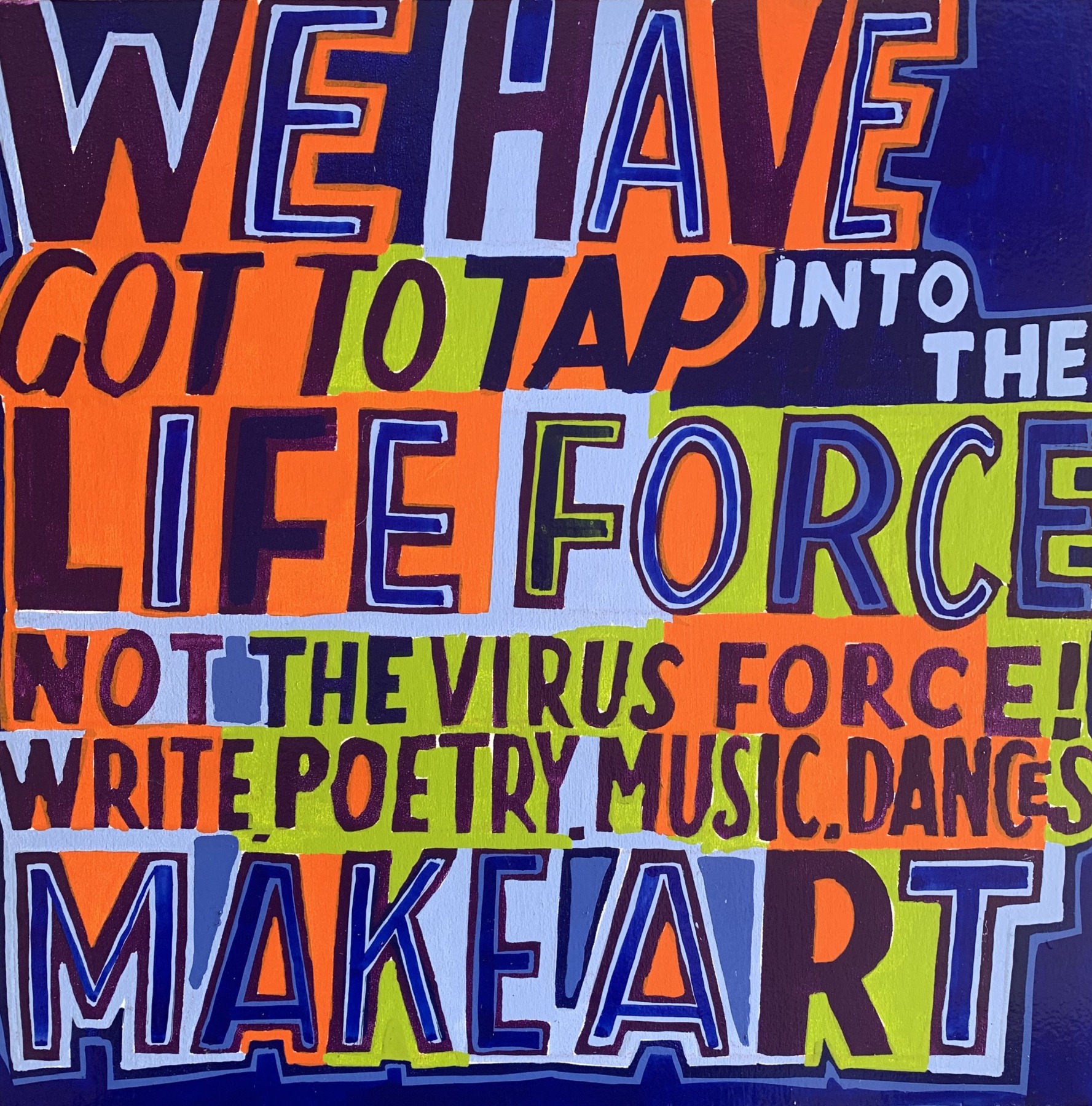 ***
Bob and Roberta Smith is actually one man. Bob and Roberta Smith is the pseudonym of the artist Patrick Brill. Born in London, he studied at the University of Reading from (1981-1985) and Goldsmiths College (1991). Before studying Fine Art at Goldsmiths, Bob lived in Rome, New York and Wensleydale, and now lives between Leytonstone in East London and Ramsgate.
He trained as a sign painter in New York and uses text as an art form, creating colourful slogans on banners and placards that challenge elitism and advocate the importance of creativity in politics and education.
His best known works are Make Art Not War (1997) and Letter to Michael Gove (2011), a letter to the UK Secretary of State for Education reprimanding him for the "destruction of Britain's ability to draw, design and sing".
Bob and Roberta Smith see art as an important element in democratic life. Central to Bob and Roberta Smith's thinking is the idea that campaigns are extended art works which include a variety of consciousness raising artefacts.
His curatorial projects include Art U Need: An Outdoor Revolution, which transformed public spaces in the Thames Gateway (2005-2006), and Peace Camp at The Brick Lane Gallery (2006), an exploration of artists' perceptions of peace. A regular speaker at conferences and symposia, he initiated the Arts' Party Conference 2013, a forum for artists and organisations to debate the role of art and design in schools.
As well as hosting a radio show called Make Your Own Damn Music on Resonance FM, Bob and Roberta Smith is a writer and musician, often performing with the Ken Brasley Playboy band. He was an Artist Trustee of Tate between 2009 and 2013, and he is currently a trustee for the National Campaign for the Arts, and a patron of the NSEAD. He has recently been elected to be a Royal Academician.