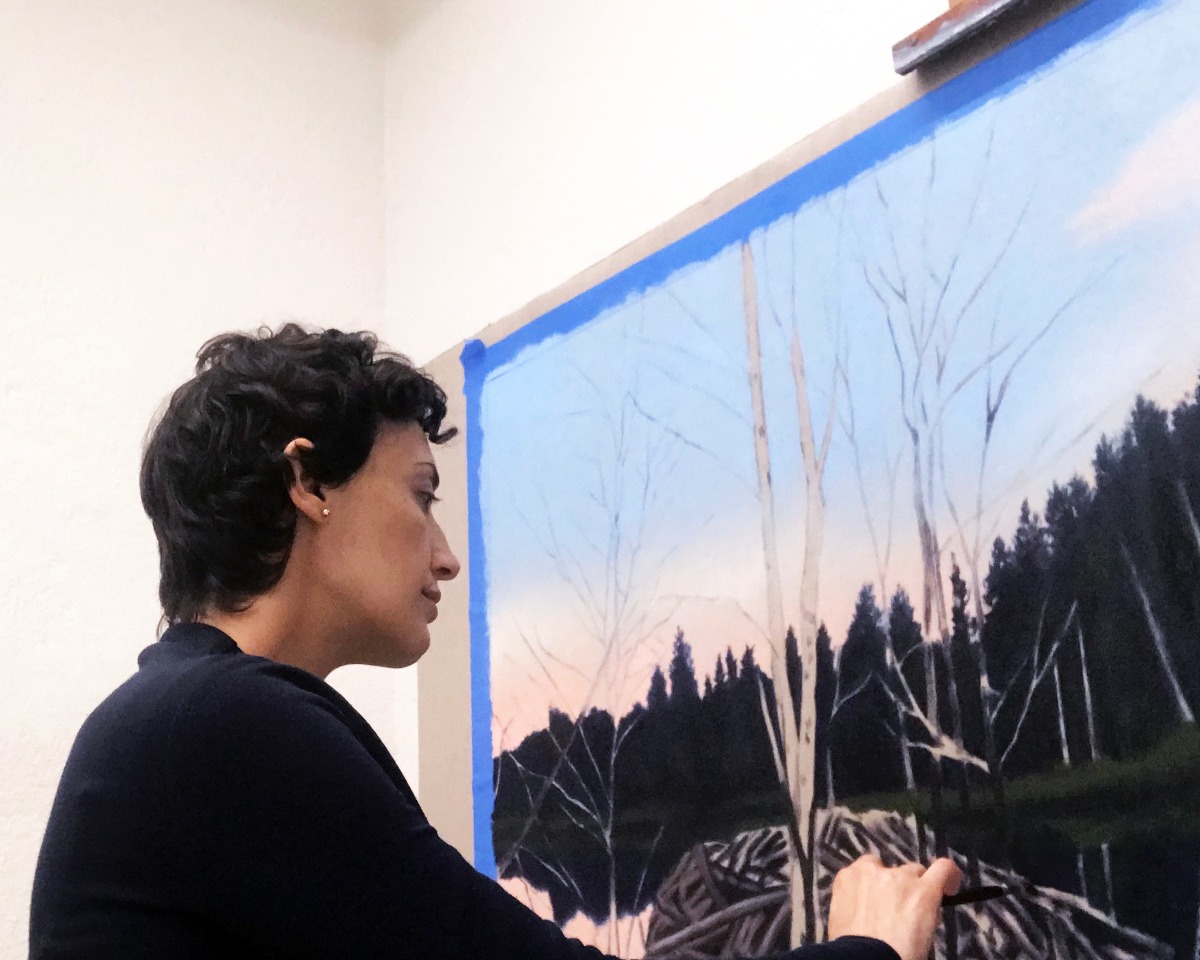 What artists are doing now. Spanish artist Gabriela Bettini in Madrid
An inspiration and mutual solidarity project for the creative industries
In the current situation, clearly our top priority is to take care of our families, friends and fellow citizens. Nevertheless, while public life is paralyzed and museums, galleries and cultural institutions are closed, in many of us neither the urge to work nor the creative spark have disappeared. In fact, quite the opposite is happening in what is turning out to be a time that befits self-reflection and the generation of new ideas for the future. Although we are at home and self-isolating, we all – artists, creatives and Arterritory.com – continue to work, think and feel. As a sort of gesture of inspiration and 'remote' mutual solidarity, we have launched the project titled What Artists Are Doing Now, with the aim of showing and affirming that neither life nor creative energy are coming to a stop during this crisis. We have invited artists from all over the world to send us a short video or photo story illustrating what they are doing, what they are thinking, and how they are feeling during this time of crisis and self-isolation. All artist stories will be published on Arterritory.com and on our Instagram and Facebook accounts. We at Arterritory.com are convinced that creativity and positive emotions are good for the immune system and just might help us better navigate through these difficult times.
From her studio in Madrid, Spanish artist of Argentinian origin Gabriela Bettini answers a short questionnaire by Arterritory.com:
Are you working on any projects right now in your studio? If so, could you briefly describe them?
My current project critically analyses the encounter between landscape painting and a specific gaze on the environment, that which derives from scientific knowledge. Through painting, I want to reflect on what this historical, hegemonic North Atlantic view on Nature left as a heritage in the present times.
I seek to suggest an alternative way of understanding biodiversity as a relational category, from an attitude that places dependence among beings as the essential reality of existence. This perspective recognizes the genealogy of contemporary authors of decolonial ecofeminism.
What is your recipe for survival in a time of almost only bad news?
I'm incredibly fortunate to have my studio next to my flat, so I can go and work every day. Also, being in touch with family and friends and only reading news from reliable sources are helping me to overcome the distress.
Due to my Argentinean background, I'm also paying attention to the impact that this crisis is having in the Global South. Not only in terms of health, but also in the political aspect. The exploitation of people and Nature that has perpetuated since colonization by interests often represented by the North has taken a new form, one that is invisible now that the world is in an emergency.
What is something that we all (each of us, personally) could do to make the world a better place when this disaster comes to an end? It is clear that the world will no longer be the same again, but at the same time... there is a kind of magic in every new beginning.
In North Atlantic cultures, we are used to pursuing individual pleasures and happiness. Still, with this health crisis, we are constantly reminded that all of our actions can somehow make an impact on others. I think that's a valuable lesson to apply in many other aspects of life.
My wish would be that most of us would grow even more aware of how important it is to invest in the public systems that nourish national health, educational, and cultural programmes. But not only. I want to think that we are all somehow enjoying the cleaner air of the otherwise always polluted big cities, the sudden silence that allows us to hear different kinds of birds. I wish we all learned from this compulsory 'degrowth', and would act correspondingly when the confinements are over. Therefore, my ultimate wish is that we become less dependent on fossil fuels.
On a smaller scale, since most of us are social distancing and missing real contact with people, I presume we'll all learn to value spending time with friends and loved ones a bit more than we used to.
The art world and the culture sector are some of the most affected. What is the main lesson the art world should learn from all this? How do you imagine the post-apocalyptic art scene?
Again, I think one of the major lessons is that investment in arts and culture is essential.
Regarding the artists, I'd like to see a growing awareness of the importance of engaging with reality. I am convinced that there is an ability in art to mobilize, to awaken emotions, and to generate change.
Gabriela Bettini at her studio / Courtesy of the artist and Sabrina Amrani
Gabriela Bettini studio / Courtesy of the artist and Sabrina Amrani
***
Gabriela Bettini (born in Madrid, 1977) is a Spanish artist of Argentinian origin.
Her current interests lie in the study of the first cultural colonialisation and how it relates to its present-day legacy. Using the history of painting and the representation of landscape as her point of departure – observing how this medium has been used to reinforce the ideas that form the basis of Western hegemony – she analyses today's environmental crisis and the extractivist model it espouses, one where women become a paradigm of the multiple violence inflicted by climate change.
She has worked with the idea of Postmemory in a series of pieces which revisit the dominant narratives of a generation that experienced the Argentinian dictatorship; these works directly link historical archives with her subjects' own life stories. In addition, many of her projects have revolved around domestic spaces, which she has often examined with the eyes, curiosity and astonishment of an outsider, of someone who has inherited the condition of exile from the previous generation.
In her works, she studies life experiences existing in the margins of History, revealing the voids that result when we attempt to reconcile memory, memory politics and official narratives. Gabriela Bettini explores these intermediate spaces, paying attention to the traces left behind by certain personal experiences. She is interested in the elements which seem to be symbolising that passage between realities, an interstitial condition which can be seen as a metaphor for the liminality, openness and ambiguity of those who have experienced them.
Gabriela Bettini has exhibited at Borges Cultural Centre and Haroldo Conti Memory Cultural Centre, both in Buenos Aires, Tlatelolco Cultural Centre in Mexico City, House of Latin America of Lisbon, TEA Tenerife Space of Arts and the Argentine Foundation in Paris. She was awarded the 2019 DKV Prize; Obra Abierta First Prize - Caja de Extremadura International Visual Arts Prize (2017), the Madrid Region Visual Art Creation Grant (2017) and the MAEC-AECID Painting Grant at the Spanish Royal Academy in Rome (2015-16). Other recognition include the Madrid Region Artistic Creation Award, Injuve Art Show or "la Caixa" Foundation and the British Council Grant for Postgraduate Studies in the United Kingdom.