What Artists Are Doing Now. Italian photographer Massimo Vitali in Lucca
An inspiration and mutual solidarity project for the creative industries
At the focus of the What Artists Are Doing Now project is the creative person, their thoughts on this peculiar time, and their visions of the future and art. Arterritory.com began this series as a pandemic initiative with the aim of showing and affirming that neither life nor creative energy are coming to a stop during this crisis. We have invited artists from all over the world to send us a short video or photo story illustrating what they are doing, what they are thinking, and how they are feeling during this time of crisis.
Although we are immensely happy that in many places around the world museums and galleries are once again opening their doors to visitors, all of our lives have significantly changed and, most likely, will never be quite like they were before. Today, the importance of art in the lives of virtually everyone has doubtlessly intensified, for artists are visionaries who can inspire those around them as they simultaneously do their part in providing solutions to global problems.
From his studio in Lucca Italian photographer Massimo Vitali answers a short questionnaire by Arterritory.com:
Are you working on any projects right now? If so, could you briefly describe them?
Yes, of course, and it seems quite obvious that today, at least in Italy, the subject is the post-Covid era. How we react, how we forget.
Photo: Massimo Vitali
Have you noticed any changes in beach life / the attitude to the beaches and the beaches themselves as people in Italy slowly return to them?
It's hard to say. Yes, of course I do see some changes, although I'm not sure if the changes will be stable or just dictated by the fact that everybody needs to go out and live.
Photo: Massimo Vitali
What is your recipe for survival in these difficult and challenging times?
I was very lucky to have a perfect place to live during lockdown: large spaces and a private garden – inside a city but somehow also secluded. So it looked like I had it all figured out.
Photo: Massimo Vitali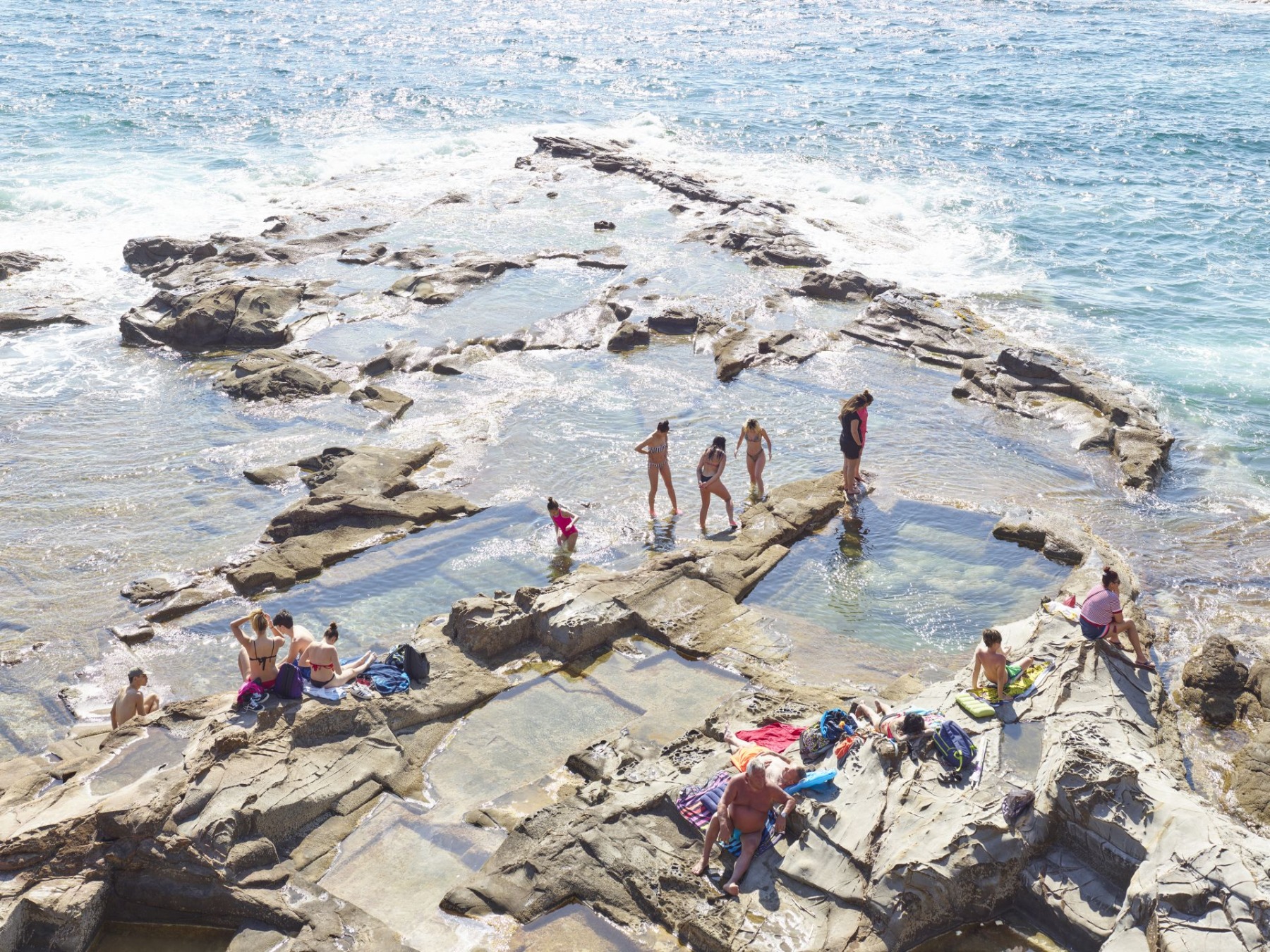 What is something that we all (each of us, personally) could do to make the world a better place when this crisis comes to an end? It is clear that the world will no longer be the same again, but at the same time...there is a kind of magic in every new beginning.
Yes, since in Italy we are already in this new beginning phase, I can tell you that we have already seen what you want me to foresee. In fact, nothing much has happened, and the the hopes for change that we had are deluded. Of course, as everyone, I was hoping for a change, but everyday I see the change getting further away.
Photo: Alberto Zanetti
What is the main lesson the art world should learn from this crisis?
The art world, which before Covid was already going through a crisis of its own, can only do better than what had come before. In fact, I feel that there is more interest and attention to what is happening in the art world.
Massimo Vitali
***
Massimo Vitali was born in Como, Italy, in 1944.
He moved to London after high school, where he studied Photography at the London College of Printing.
In the early Sixties he started working as a photojournalist, collaborating with many magazines and agencies in Italy and in Europe. It was during this time that he met Simon Guttmann, the founder of the agency Report, who was to become fundamental in Massimo's growth as a "Concerned Photographer".
At the beginning of the Eighties a growing mistrust in the belief that photography had an absolute capacity to reproduce the subtleties of reality led to a change in his career path. He began working as a cinematographer for television and cinema. However, his relationship with the still camera never ceased, and he eventually turned his attention back to "photography as a means for artistic research".
His series of Italian beach panoramas began in the light of drastic political changes in Italy. Massimo started to observe his fellow countrymen very carefully. He depicted a "sanitized, complacent view of Italian normalities", at the same time revealing "the inner conditions and disturbances of normality: its cosmetic fakery, sexual innuendo, commodified leisure, deluded sense of affluence, and rigid conformism". [Whitney Davis, "How to Make Analogies in a Digital Age" in October Magazine, Summer 2006, no.117, p.71-98.]
Over the past 12 years he has developed a new approach to portraying the world, illuminating the apotheosis of the Herd, expressing and commenting through the most intriguing, palpable forms of contemporary art – Photography.
In 1995 he commenced the Beach Series.
Massimo Vitali's photography can be found in the collections of the Guggenheim in New York, the Centro de Arte Reina Sofia in Madrid, Spain, and the Elton John Collection.
He lives and works in Lucca, Italy, and in Berlin, Germany.