What artists are doing now. Kaido Ole in Tallinn
An inspiration and mutual solidarity project for the creative industries
In the current situation, clearly our top priority is to take care of our families, friends and fellow citizens. Nevertheless, while public life is paralyzed and museums, galleries and cultural institutions are closed, in many of us neither the urge to work nor the creative spark have disappeared. In fact, quite the opposite is happening in what is turning out to be a time that befits self-reflection and the generation of new ideas for the future. Although we are at home and self-isolating, we all – artists, creatives and Arterritory.com – continue to work, think and feel. As a sort of gesture of inspiration and 'remote' mutual solidarity, we have launched the project titled What Artists Are Doing Now, with the aim of showing and affirming that neither life nor creative energy are coming to a stop during this crisis. We have invited artists from all over the world to send us a short video or photo story illustrating what they are doing, what they are thinking, and how they are feeling during this time of crisis and self-isolation. All artist stories will be published on Arterritory.com and on our Instagram and Facebook accounts. We at Arterritory.com are convinced that creativity and positive emotions are good for the immune system and just might help us better navigate through these difficult times.
From his studio in Tallinn, Estonian artist Kaido Ole writes to Arterritory.com the following:
"My last set of works are about houses, at least that was my inner topic for these paintings. I have already done five canvases, and this round-shape one is the sixth. Actually, this panel was already prepared some years ago, it is spinning, if you like, thanks to a special construction behind it, so the composition can be easily changed by everyone. Something on the left can be moved to the top or to the right side if you move the panel etc.
Somehow, I already decided in the very beginning, that this picture should be about the cosmos, this dark blue space with an endless number of stars, but it took year(s) to decide what else should happen on this panel and in this universe. Finally, now, doing these different houses in different situations, and probably thanks to this forced isolation, I just put up another "house", actually a very simple cube with one single man into this universe, and I immediately felt this was the perfect decision. I´m one who mostly enjoy solitariness in normal amounts, but this is the most extreme option you can imagine. You can feel yourself as a ruler of the universe, the centre of infinity, but also as nothing at all and even both at the same time. This is loneliness which hurts and probably kills or...maybe not. I had a good chance to try it, even if it happened only on canvas."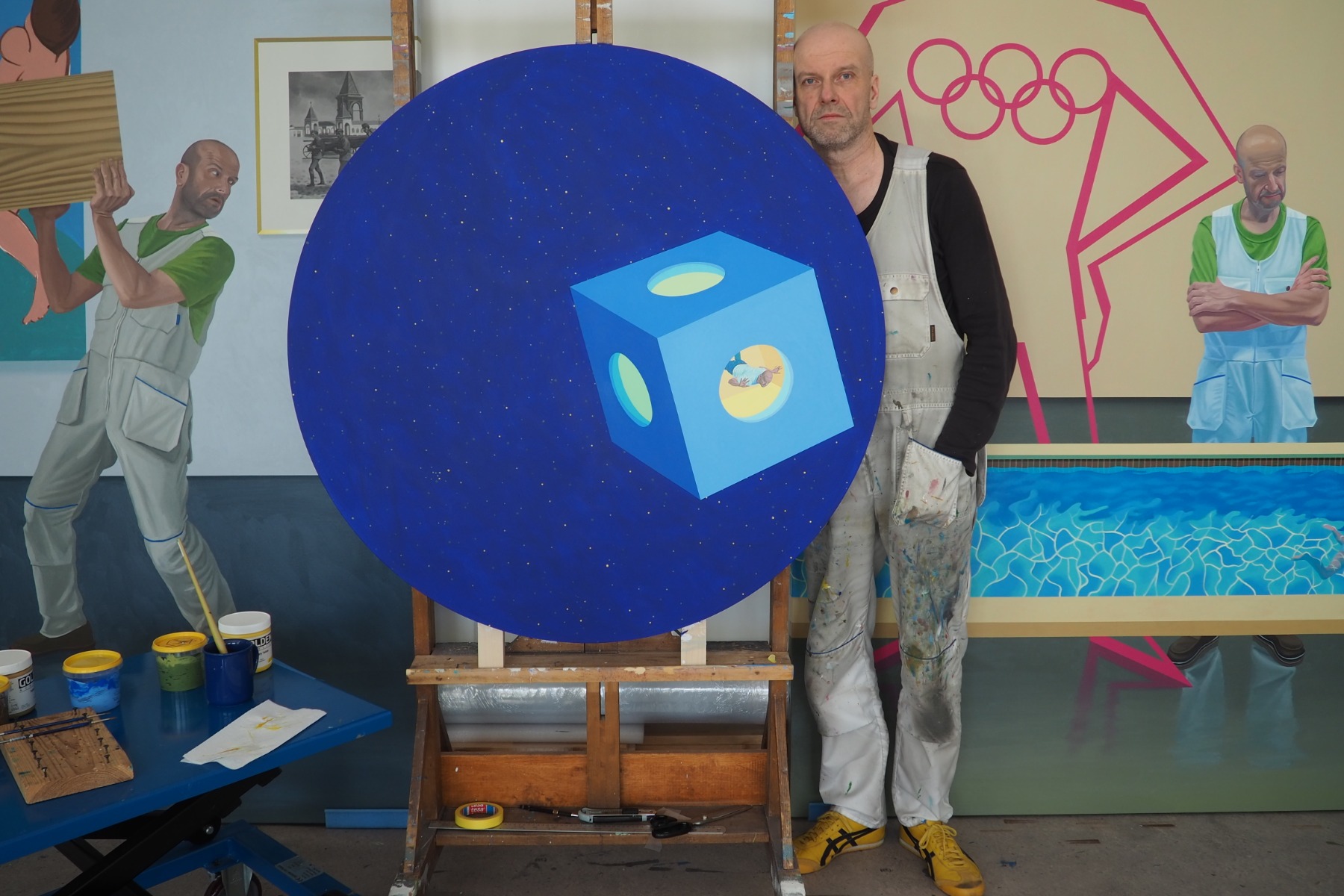 *
Kaido Ole (1963) is one of the Estonia's most prominent painters. Conceptual painting is at the centre of Ole's work. Even though his large paintings are intricately calculated and even seem machine-made, he is in fact also interested in mistakes that occur during the handicraft and painting process. Ole's theatrical and controversial plots always combine techniques from different painting styles, from geometric abstractionism to pop art and nouveau réalisme.
Ole has been showing his work locally and internationally since 1989, and is a graduate of the Estonian Academy of the Arts, where he studied design and painting from 1982 to 1992. After graduating, Ole taught at the Academy (initially – drawing, and later – painting), eventually becoming a professor of the Painting department, a post he held for 7 years. Ole quit the academy in 2010 to focus on his career as an artist.
"I like thinking of art not as something special, but as one of many forms of human activity. This helps me keep a fresh eye and see things in the broader context, it allows me to explain and justify my work to a wider audience than just my closest colleagues and art fans.
It's no secret that many people don't like art, and some even hate it; and being aware of all this helps me get a better sense of my place and choose the right logic for action. I usually choose painting, in large part because most people feel they understand this language, and it creates a good start for making mutual creative mistakes." (A short statement contributed for an art book. Spring 2013)